Highest Loan To Value Purchase Mortgages And Remortgages - Low Rate Loans From £5,000 To £150,000 - Release Your Equity With An Equity Release Plan
Sometimes you only need a small loan for a short period of time. First Choice Finance have listened to our customers and through our relationships bring you a selection of small loans that you can use for any purpose, designed for both home owners and tenants there are personal loans for many different circumstances.
Small personal loans can sometimes be harder to get approved for but here at First Choice Finance we can get you access to a large selection of lenders and loan plans so even if you have been rejected finance in the past, you could still be approved through us.
Small Loans For Bad Credit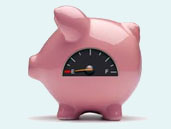 If you have a bad credit rating with missed payments on existing loans and credit cards you will probably find it harder to find a personal loan, here at First Choice Finance we give you access to lenders capable of helping you find an unsecured loan for your circumstances, if non of our personal loan providers can help we could help you explore other possibilities such as guarantor loans or homeowner loans.
Personal loans from First Choice Finance range from small £1,000 loans up to £10,000. If you would like to borrow a larger amount we could still help you borrow the funds with a any purpose secured loan for amounts from £5,000 up to £100,000 for homeowners and mortgage payers
Consolidate Your Debts Into One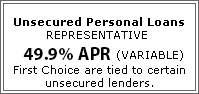 If you have a number of small loans, credit card debts and store cards, First Choice Finance could help you consolidate these into one manageable debt consolidation loan, this could help you reduce your monthly outgoings and restructure your finances, for a no obligation free quote please call us or enquire on line.
The piggy bank is running on empty? It might be time to consider a small loan.
If small loans are what you are after it may be difficult for you to establish the cheapest way to borrow the money, you could put the money on a credit card, but high interest rates might make what was originally a small debt roll up into one much larger. Here at First Choice Finance we can provide you with a number of options so that you can make the decision yourself. For more information on the small loans we can provide you with access to, fill in our one minute application form at the top of the page. Alternatively you can call us on our BT free phone number,
0800 298 3000
or number included in mobile plan minutes,
0333 003 1505
.
Small Loans In The UK
What constitutes a small loan to one of us, may be a different story for another. Someone who is 6ft tall for example, may feel that many things are small. That is why we strive to provide a variety of small loans coupled with different loan types to go along with them. With most of the loans we can offer, the lending criteria will be different from one small loan lender to the next. However, there is one thing that they have in common; you must either be a UK resident or have rights to reside to apply for a loan. If you can tick that off the list then we can start to look into arranging small loans all over the UK. Whether it is a £7,500 small loan or a £500 small personal loan we have access through our partners to some good deals in the market.
Small Loans For People On Mixed Income With Benefits
If your income is based solely on benefits you may be struggling to access any finance at all, regardless of the loan size. Here at First Choice we endeavour to provide options for all of our clients, from all walks of life. If you are a homeowner we may be able to provide a solution. We have ties to specialist secured loan lenders who are willing to accept some benefits as your income to guarantee affordability of the loan. As long as your benefits will run for the duration of the loan term, and you fit with the other criteria stipulated by the lender we are likely to get you accepted for small secured loans.
Small Loans With No Credit Check
If you have had problems with your credit file in the past, we want to help so that it won`t dictate your financial future. Bad credit can drastically reduce the availability of the small personal loans available to you. The most effective way of improving your situation is by rebuilding your credit score. There are a number of ways you can do this; make sure you make all repayments on time and in full, only apply for credit you are likely to be accepted for, or even something as little as registering on the voters roll can all help to improve your credit file. Unfortunately, this can take time and if you need small loans now it isn`t going to provide a solution. Instead a guarantor loan might be able to. We can give you access to small guarantor loans that are not reliant on your credit check to be approved. For more information head over to our page on guarantor loans, or call us on the above numbers. If you have equity in your home we have lenders that will consider you for a homeowner secured loan therefore enabling you to borrow the funds you require. These loans are secured on your home and carry the same risks as a mortgage.
Small Loan Calculator
Large or small, unsecured or secured, a loan is a loan and it is an important financial decision. Knowing how much these small loans are going to cost is essential when establishing whether you can afford them or not. Our loan calculators can help. Calculate your monthly repayment at different loan values to see you how much you need and how much you can afford.
Small Secured Loans
Secured loans are typically used to borrow larger loan amounts, but in some instances if you have an adverse credit rating and been refused by other lenders, as a finance broker First Choice Finance are able to offer by secured and unsecured loans from numerous lenders allowing people with a mixture of credit profile`s borrow from £1,000 all the way up to £150,000.
Unsecured Personal Loans
REPRESENTATIVE 49.9% APR (VARIABLE)
First Choice are tied to certain unsecured lenders.
Established In 1988. Company Registration Number 2316399. Authorised & Regulated By The Financial Conduct Authority (FCA). Firm Reference Number 302981. Mortgages & Homeowner Secured Loans Are Secured On Your Home. We Advice Upon & Arrange Mortgages & Loans. We Are Not A Lender.

First Choice Finance is a trading style of First Choice Funding Limited of The Old Courtyard, 103 Buxton Road, High Lane, Stockport, Cheshire. SK6 8DX. Copyright protected.