Find Out Your Mortgage Options Without Any Commitment Today - We Will Quickly Let You Know: How Much You Can Borrow, The Best Rates For Your Circumstances And What Your Monthly Repayments Will Be.
For over 30 years our clients have been successfully taking out mortgages and remortgages for homes across the UK. Obtaining mortgages when they need them with repayments and rates to match their specific requirements.
Join tens of thousands who have already obtained their ideal mortgage in a vast range of scenarios
.
The most common reasons for our customers mortgages & remortgages are;
First mortgage clients looking to buy at a low start rate, or homeowners seeking a better rate to lower their monthly payments.
Home owners wanting to improve, renovate or expand their property by using some of the value they have in their home through a remortgage.
Couples, families and individuals looking to move house, buy their first home or enter the buy to let arena.
People looking to release some funds to get on top of their credit & consolidate their debts or spend on other projects.
Customers looking for help when they have been let down by another mortgage company, bank or building society for a mortgage, remortgage or further advance.
To get the figures for your scenario either give our UK mortgage team a call on
0800 298 3000
(freephone) or
0333 003 1505
(mobile friendly) to talk through your scenario confidentially, alternatively fill in our short
No Credit Check Online Enquiry Form
and we will contact you at your convenience.
We fully understand that choosing to take out any mortgage advance is probably one of the most important financial decisions that anyone makes. That is why we will provide you with a no obligation
free personal illustration
& quotation for your mortgage so you can decide
whether or not you wish to proceed in your own time
.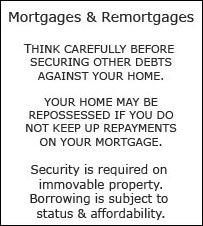 What Happens Next?
With such a significant moment on your horizon there really is no reason to dive into the mortgage products maze blind.
If you are happy with our free quote then we will use both our depth in experience and proven track record to arrange your mortgage.
Your mortgage will be processed from initial figures through to completion for you via telephone, email and post. So you can relax, avoid disruption and smoothly achieve your home ownership goals.

Be it a purchase mortgage to borrow money to buy your first home, a move to a larger house for a growing family, perhaps you have decided to move to another area or it could be that you want to move to a smaller or lower cost place to release and enjoy the time & money you have invested over the years - we are here to help. If you are not moving but you are joining the growing section of `improve don`t move` society, who are utilising money through a remortgage to spend as they wish - then the same free quotation route is also available to you.



Mortgages Explained

So what is a Mortgage? In simple terms a mortgage is a loan from a mortgage lender to you that is secured against your home by way of a first legal charge. It is called a first charge because it is the first item to be secured on the title of your home and it goes after your own names, as you are still the owner of the property. You borrow a certain amount of money from a lender, our mortgages range from £10,000 to £1,000,000 and you pay it back with interest over a certain period of time. Payments are usually made by you monthly, the shortest time frames tend to be 5 years; longest terms are around 30 years; with 20 to 25 years being the most common terms. At the end of the mortgage term if you have made all your repayments the home will revert to you and you will either owe the lender nothing or a sum will be due at that time depending on what type of mortgage product you had. In summary of the principle ones used, if you have a capital and repayment you will owe nothing, if you had a part and part you will owe some of the original capital and if you have had an interest only mortgage you will still owe the original sum you borrowed. If your family or you are living in the security home then these mortgages are termed regulated mortgage contracts and are regulated by the Financial Conduct Authority. Our mortgage types page gives you more in depth details on specific mortgage structures and when they are used for various scenarios.





Who are Mortgage Advisers?

First Choice Finance employs mortgage advisers. A mortgage adviser has access to multiple plans and lenders in the market and will match your needs and requirements to a specific mortgage through giving you advice, they will also help you through the process of getting a mortgage completed. Advisers usually have software solutions that are not in the public domain which enable them to scour the market for you, they also need to have relevant qualifications and be competent. They often work in financial services companies such as finance brokers and mortgage brokers, but can be individuals working for themselves provided they have the relevant permissions from the regulators, suitable qualifications and a formal route for some of their mortgage advice to be checked.



How do Mortgages Work?

You take on the commitment of paying a mortgage, the amount you can borrow is principally based on how much you can afford, the value of your home, the size of deposit or loan to value you are working at (use our loan to value calculator to check this) and your credit history. In return the lender enables you to move home or stay where you are but move the mortgage to them. The mortgage contract is for a fixed length of time agreed between you and the lender. Finishing it early can incur Early Repayment Charges. You are charged interest on the mortgage, which can be based to some degree on the Bank of England base rate, but not always. You can often choose to repay the interest in a number of ways, the three most popular ones are; capital and repayment, interest only or part and part. Then on top of all of that you can choose different ways to pay back your interest. Be it fixed payments, discounted or some form of variable rate tracker. The many options mean that there are thousands of different mortgages available and our advisers can help you access lots of them.



Mortgages for Poor Credit

Do you have defaults, missed credit installments, mortgage arrears or CCJs? Have you been told that securing finance with a poor credit history is not going to be possible? Well, you have come to the right place, it is time to stop listening to the commentators that only see the doom and gloom in the mortgage market and instead give the experts like ourselves a call to give you the true representation of whether you can secure finance with less than ideal credit. The answer to `can you get a mortgage with poor or bad credit`, is yes, sometimes you can. Music to your ears? Well, read on.

Firstly you may not have poor credit! Many consumers who have defaulted on an old credit account a few years ago or had a small bill end up becoming a County Court Judgement in the past or missed a mortgage or loan payment a while ago are not seen as having poor credit at all and are being welcomed by many mortgage and loan lenders.

If you are unfortunate enough to have a poor, adverse or bad credit history, you are in a complex area of the market which has fewer options but still does have a decent number of providers. Mortgages for people with poor credit are sometimes referred to as `Sub-prime` mortgage products. This just means that they aren`t quite prime however there at least hundreds of thousands of people in this category and as a result some lenders have chosen to lend to the huge selection of people that come under this header. The lenders will look at you as an individual and will do their best to make your mortgage happen provided you meet the criteria and can afford them. You will find that as these products carry slightly higher risk to the lender, purely because you have had issues before, that you may be faced with slightly higher interest rates or other costs if you want to take out a sub-prime mortgage. What is most important to realise is that having poor credit isn`t always the end of the road. Most of us have had finance hiccups in life, but it doesn`t mean you are any less entitled to want to get your finances in order provided you are committed to keeping your side of the agreement. Not only that but if we place you with a subprime lender now and you use the opportunity to clean up your credit file and keep up your repayments, you may be able to remortgage to a high street lender as your credit profile can improve dramatically over time.

If you are looking to utilise some extra funds but don`t want to remortgage away from your current lender and have accrued some poor credit, then maybe it is worth looking at a secured loan instead. We sometimes even get exclusives with experienced lenders in the secured loan industry who may well be willing to lend you the money that others won`t.



Mortgages for Self Employed

Many people may believe that self-employed mortgages are almost impossible to come by. That is certainly not the case. It is important not to confuse self-employed mortgages with self-certified mortgages, the second of the two is no longer available. A self-certified mortgage was one whereby the borrower had no way of proving their income and therefore confirmed it themselves through a written statement of earnings. For obvious reasons this can pose many problems as there is no evidence of income to help ensure the customer can afford the mortgage. However self -employed does not mean that you cannot confirm your income.

We understand that hard work and a good initiative is often undeniable in many self-employed workers. That is something that we believe should be rewarded, not punished. As long as you have proof of income, invoices, transactions of funds going into your accounts, then getting a mortgage is not a huge challenge, it is about being aware of which lenders accept certain forms of income and of course ensuring you do meet all the criteria for the protection of both the lender and you. Many lenders simply request that you have a year or more as proof of income as opposed to 2 or 3 months for employed persons. These could be 1 or 2 years SA302`s or 1 or 2 years accounts certified by an accountant. After that the mortgage will proceed as normal. If you are unsure whether your income will be sufficient then give us a ring and we can let you know after a short conversation.



Mortgage Calculator

At First Choice Finance we can provide you with access to mortgage calculators that can help you to get a general idea of your loan to value (how much you are borrowing in relation to how much your house is worth), monthly repayment figures and also how much payments would become if you choose to consolidate other debts.

Mortgage calculators can be a useful guidance tool for getting some general idea of the cost of mortgages and how much you might end up paying. It may be useful to use our mortgage calculator tools, see the calculators tab above, to help you have an idea of what you may or may not be able to afford. However in reality you need to know what rates and amounts you can get, so once you fill in our online quotation form or give us a call we will give you details of the mortgages that are likely to be available for you - as although calculators are great with numbers they don`t know the right questions to ask.




Homeowner Secured Loans
9.8% APRC. Representative example: Borrow £50,000 over 180 months. 60 months at 8.1%, £497.83 pcm fixed at 60% LTV. Then 120 months at 10.1%, £539.89 pcm variable. Total payable £94,656.60. Total cost of credit £44,656.60 (including: £795 lender fee, £985 broker fee & £42,876.60 interest). First Choice are tied to certain loan providers.


Mortgages & Remortgages
8.4% APRC.
Representative Example: Borrow £120,000 over 25 years at 5.99%, £778.86 pcm fixed for 3 years at 60% LTV. Then at 8.75%, £974.86 pcm, variable for 22 years. Total payable £286,416. Total cost of credit £166,416 (including: £985 broker fee, £999 lender fee & £164,432 interest)





Unsecured Personal Loans
REPRESENTATIVE 49.9% APR (VARIABLE)
First Choice are tied to certain unsecured lenders.




THINK CAREFULLY BEFORE SECURING OTHER DEBTS AGAINST YOUR HOME.
YOUR HOME MAY BE REPOSSESSED IF YOU DO NOT KEEP UP REPAYMENTS ON A MORTGAGE OR ANY OTHER DEBT SECURED ON IT.
Security is required on immovable property.



Late repayment can cause you serious money problems. For help, go to moneyhelper.org.uk



Established In 1988. Company Registration Number 2316399. Authorised & Regulated By The Financial Conduct Authority (FCA). Firm Reference Number 302981. Mortgages & Homeowner Secured Loans Are Secured On Your Home. We Advice Upon & Arrange Mortgages & Loans. We Are Not A Lender.

First Choice Finance is a trading style of First Choice Funding Limited of The Old Courtyard, 103 Buxton Road, High Lane, Stockport, Cheshire. SK6 8DX. Copyright protected.