Fast Turn Around On Secured Homeowner Loans - Use The Money Borrowed For Any Legal Purpose - Spread Your Loan Over A Term To Match Your budget - Choose From Our Lenders Very Latest Loan Plans
Over 30 Years of UK clients taking out secured loans through First Choice Finance - these loans can be used for almost any purpose and repayments can be spread over 36 to 300 months to suit your budget. There is no obligation to go ahead with your loan offer and you can get bespoke free quotes from our panel of loan providers. Our UK loan options will enable you to consider loans from a selection of secured loan lenders to find the best plan we have access to - for your circumstances. If you would prefer a personal unsecured loan we can refer you to an associate company who may be able to help. We would suggest you first try your bank or building society for an unsecured personal loan.
We have been helping people across the UK borrow the money they require for their specific project through an any purpose loan for over a quarter of a century and have successfully enabled some of our customers to achieve their personal finance goals whether they have had a good, fair or even a poor credit history.
Amongst the most common reasons for people applying for loans have been home improvements, debt consolidation, vehicle or chattel purchase, special occasion, extension, holiday and many others. The key to remember is if you have found yourself in a scenario where you want to borrow some money via a personal secured loan for a specific purpose you will not be the first to have come up with that requirement and therefore there may be a plan somewhere to match your specific needs, the hard bit is knowing where. So use our experience to help you get that loan completed.
Who Can Apply For A Personal Unsecured Loan?
If you are a UK citizen (or have rights to reside), you have a reasonably consistent source of income and are at least 18 years of age you may be eligible for a personal loan. There are many loan plans available and plenty are aimed at niche customers, so even if being self employed or having a blot on your credit profile has prevented you being accepted, we may still be able to help you through our specialised associate companies.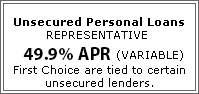 Like all other loans, a personal loan can come in a variety of different shapes and sizes, with offers, rates, amounts and terms all different depending on the loan you require & which loan plan you meet the criteria of. Here at First Choice we can also provide you with access to competitive personal secured loan plans that can offer you through our secured personal loan panel from £10,000 to £150,000 and the term you pay the money back over can be tailored to your individual needs, period from 3 to 25 years can be utilised to balance your budget with getting the loan paid back as soon as possible. Please note that secured loans are secured on your home and carry the same risks as a mortgage.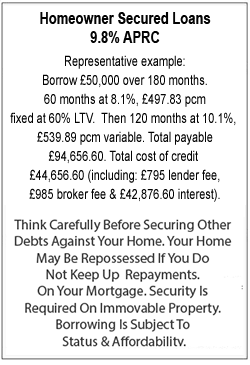 Bad Credit Personal Loans
If you have been refused for a loan by a bank loan in the past, we could still help, we have many specialist lenders, not available on the high street, for people with an adverse credit rating
When you enquire for a loan through First Choice Finance we will search to find the best personal loans to try and find a cheap personal loan that best suits your circumstances, it is important to note that there are a number of factors that could affect the cost of your loan, if you have a bad credit rating you may find your loan a little more expensive as you would probably expect.
Personal Loans Online
Depending on what you are looking to obtain money for, you may not have the time to drive to various loan companies, wait around for loans to be compared, assessed and then go through all the details before you can even apply. Delays in the loan process can be minimised by dealing with an experienced and knowledgeable loan company. First Choice have developed an online application form that only takes a few minutes to fill in and then can be passed to our in house consumer loan support team to get to work on your finance enquiry right away. We already have links to many competitive lenders as well as alternative associate brokers and have come across most scenarios through the years, from very straightforward to highly complex. You could see your application move from enquiry to pay out with the minimum of fuss or delay, so you get your money when you need it. Simply fill in the short online form at the top right of the page or call on any of the numbers to chat through your specific scenario in confidence.
Secured personal loan
Video transcript
The average household typically pays back nearly £2,300 on finance a year in interest alone, according to Credit Action, but you may be able to cut that figure by using a secured personal loan for debt consolidation.

This process will see money being borrowed through a secured homeowner loan then used to pay off all your unsecured debts…..things like credit and store cards or personal unsecured loans leaving you with a single smaller repayment to make each month.

To be worthwhile doing the new payment figure will be lower than what you`re paying already to service that borrowing as the debt will either be spread out over a longer period and / or it will be a better rate.

Although it could mean that you end up paying more in interest over the full course of the loan, it will help you get back on top of your finances.

Of course, you don`t have to use a secured personal loan to pay off your debts you could use the money for any legal reason, improve your home, buy a new car or treat your family to a special holiday, to mark a notable birthday or anniversary or even to have cosmetic surgery, the sky really is the limit.

Even if you`ve got an impaired credit history First Choice may still be able to help as we offer a selection of deals from a range of providers who are more flexible than many banks, which enhances the chances of finding a loan for your individual circumstances.

After you give us a few details, we`ll whittle these options down to one or two and offer them to you on a no-obligation basis, so you can turn it down if you want it.

It is your choice.





If you`re happy with the terms, our in-house team will process your application to speed up your loan and get the money released to you.





For your free quote on a secured personal loan fill in our short on line form at firstchoicefinance.co.uk and we will call you back.



Or talk to our finance experts on 0800 298 3000 from a landline, or on 0333 003 1505 from a mobile.


Homeowner Secured Loans
9.8% APRC. Representative example: Borrow £50,000 over 180 months. 60 months at 8.1%, £497.83 pcm fixed at 60% LTV. Then 120 months at 10.1%, £539.89 pcm variable. Total payable £94,656.60. Total cost of credit £44,656.60 (including: £795 lender fee, £985 broker fee & £42,876.60 interest)..
Late repayment can cause you serious money problems. For help, go to
moneyhelper.org.uk
Established In 1988. Company Registration Number 2316399. Authorised & Regulated By The Financial Conduct Authority (FCA). Firm Reference Number 302981. Mortgages & Homeowner Secured Loans Are Secured On Your Home. We Advice Upon & Arrange Mortgages & Loans. We Are Not A Lender.

First Choice Finance is a trading style of First Choice Funding Limited of The Old Courtyard, 103 Buxton Road, High Lane, Stockport, Cheshire. SK6 8DX. Copyright protected.