Highest Loan To Value Purchase Mortgages And Remortgages - Low Rate Loans From £5,000 To £150,000 - Release Your Equity With An Equity Release Plan
First Choice Finance specialise in helping people find finance in many different scenarios. We offer low cost loans for those people fortunate enough to have excellent or good credit ratings. However due to our extensive panel of lenders including specialist providers, we can help you start your search for low rate loan even for those who find it more difficult to get finance.
We can compare some loan plans to make sure that you are signing up for the right deal for your scenario from our lenders. Our loan team are experts in finding the cheapest low cost loans available from our panel for your circumstances and matching them to your needs
How To Get A Cheap Loan
As we all know, unfortunately no loan is truly ``cheap`` as the nature of a loan means you will always have to pay back what you borrow plus interest. However exactly how much you pay back depends on many factors. By knowing some of the many things that impact on the cost of your loan, you are in a better place to try and find the best low cost loan plan that suits you.
Loan Amount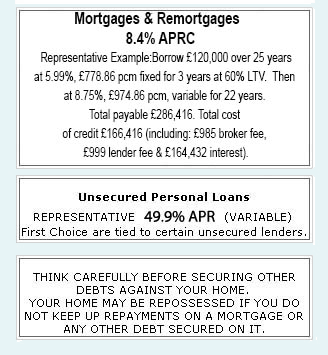 The loan amount, i.e. the amount you borrow, usually impacts on your loan annual interest rate (APR). Often the larger the loan amount the smaller the APR, although you may well be paying back more interest over the term of the loan due the larger capital balance borrowed. So in this case it is important you borrow the full amount of money you require from the start to avoid having multiple loans at the same time with large APR's. If you require a large loan it is likely you may have to offer some security to a lender, this would normally be your home or a house you own and rent out and are termed secured loans. Likewise if you cannot get an unsecured loan and are a homeowner you may be able to consider a secured loan, as they can offer larger amounts and longer repayment periods. However secured loans carry the same risks as a mortgage in the event of defaulting on your repayments.
Loan Term
By extending the loan term you will reduce your monthly repayments, although by shortening the loan term you will make the loan cheaper over the term of the loan because you will pay less interest back in total. It is important you know exactly how much you can afford to pay back each month to ensure you get the best value while the loan runs, without straining your cash flow too much.
Credit Score
For the lowest rates from many lenders you will need a good credit score, this means that you have been keeping up payments on your debts and do not have any mortgage arrears or defaults. If unfortunately you have missed credit payments, CCJ`s or mortgage arrears this will impact on the cost of your loan. Usually the more adverse credit items you have and the more recent they are, the higher the rate may be on any loan offered to you.
Electoral Role
Although not the first thing people think of it is important that you appear on the electoral role, many lenders use this element within their loan decision process as well as how long you have remained at the same address.
For more information on trying to get cheap low cost loans please enquire on line or call us and we can begin our search for the best loan plan for you from our borrowing options.
Homeowner Secured Loans
9.8% APRC. Representative example: Borrow £50,000 over 180 months. 60 months at 8.1%, £497.83 pcm fixed at 60% LTV. Then 120 months at 10.1%, £539.89 pcm variable. Total payable £94,656.60. Total cost of credit £44,656.60 (including: £795 lender fee, £985 broker fee & £42,876.60 interest). First Choice are tied to certain loan providers.


Mortgages & Remortgages
8.4% APRC.
Representative Example: Borrow £120,000 over 25 years at 5.99%, £778.86 pcm fixed for 3 years at 60% LTV. Then at 8.75%, £974.86 pcm, variable for 22 years. Total payable £286,416. Total cost of credit £166,416 (including: £985 broker fee, £999 lender fee & £164,432 interest)

Unsecured Personal Loans
REPRESENTATIVE 49.9% APR (VARIABLE)
First Choice are tied to certain unsecured lenders.
THINK CAREFULLY BEFORE SECURING OTHER DEBTS AGAINST YOUR HOME.
YOUR HOME MAY BE REPOSSESSED IF YOU DO NOT KEEP UP REPAYMENTS ON A MORTGAGE OR ANY OTHER DEBT SECURED ON IT.
Security is required on immovable property.
Late repayment can cause you serious money problems. For help, go to
moneyhelper.org.uk
Established In 1988. Company Registration Number 2316399. Authorised & Regulated By The Financial Conduct Authority (FCA). Firm Reference Number 302981. Mortgages & Homeowner Secured Loans Are Secured On Your Home. We Advice Upon & Arrange Mortgages & Loans. We Are Not A Lender.

First Choice Finance is a trading style of First Choice Funding Limited of The Old Courtyard, 103 Buxton Road, High Lane, Stockport, Cheshire. SK6 8DX. Copyright protected.