Large Affordable Secured Loans With Repayment Amounts Matched To Your Budget - Use The Money For Home Improvements, Debt Consolidation, Or For Any Other Purpose - No Guarantor Needed Big Loan Lender Plans - Large Loans May Be Available For Good And Bad Credit Or For Low Credit Scores (Subject To Status)
| | | |
| --- | --- | --- |
| | | |
| Low Repayments & Terms To Match Your Budget | Fast Completion & Funds Paid Direct To You | Large Loans For Bad Credit / Adverse Credit Profiles |

One Of The UK`s Longest Established Large & Big Loan Specialists. Our Clients Have Successfully Obtained From £3,000 To £150,000 For Any Purpose. Our Lenders Terms Enable You To Keep Your Repayments Affordable By Spreading Your Large Loan From 36 To 240 Months.

There Are Early Repayment Options & We Have Helped People Who Have Been Refused Or Let Down Elsewhere.
In this current day and age with prices constantly on the rise and the everyday cost of living creeping up alongside it, people are needing to borrow larger sums of money to do the things they want. Here at First Choice Finance we understand the financial pressures that our clients may be facing, which is why we strive to make
affordable large loans available to those that need them
and have large loan lender plans for customers with good, fair and adverse credit.

Whether it is for debt consolidation to improve cash flow, or to enable a major purchase or you simply want to carry out those home improvements that the house has been crying out for -
a large loan from £10,000 - £150,000 could be the remedy
. With the average cost of a home extension now coming in at an estimated £40,000 there are very few of us that have large enough balances in our savings to fund such projects. We feel that as long as you can afford it you shouldn`t be prevented from improving your home or taking out a loan for any reasonable purpose. To find out your options give us a call confidentially on
0800 298 3000
(freephone) or
0333 003 1505
(mobile friendly), alternatively fill in our short
free large loan quote enquiry form
and we will get cracking on your enquiry.
What Is A Secured Loan & How Much Can I Borrow?
Before you make any financial commitment it is vital that you fully understand the ins and outs of what you are getting in to. We advise upon and arrange secured loans from lenders offering larger loans from £10,000 to £150,000 with terms from 3 to 25 years so
you can spread the payments to suit your budget
. These loans are also known as second mortgages and are secured on your home behind your existing mortgage.
You can be confident that by coming to us to secure your large loans you have chosen a company who can deliver - we have been established for over 30 years and have already arranged over £1 billion in secured borrowing. It is part of our duty of care to make sure you have made an informed choice. Our lenders loans with longer terms (3 to 25 years) and larger amounts will require you to provide some security on property. Our large loan providers who provide finance of up to £150,000 offer competitive secured loans rates with a representative 9.8% APRC. NOTE: These loans carry the same risks as a mortgage.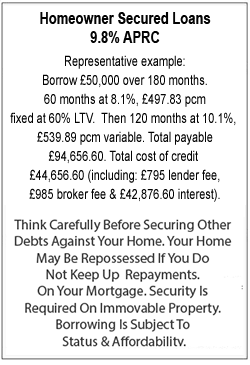 So, What Actually Is A Loan?
Well, In basic terms any loan is an arrangement in which a lender loans money to a borrower and the borrower agrees to repay the money, almost always with interest on top, over a set period of time. Generally larger loans have lower interest rates, subject to your credit position of course.
Loans can range from a few thousand pounds all the way up to millions depending on the circumstance and whether the borrower fits the criteria. It seems like simple stuff, but it starts to get slightly more complicated when you add in different interest rates and differing products from the large array of lenders. If when you come to this point it starts to get a little mind boggling then give us a call on the above number and one of our knowledgeable finance team members will talk you through what we can do and what we cannot.
Fortunately for you we have spent 30 years perfecting our craft in the industry and have established ourselves as specialists for arranging large secured loans for both perfect credit history just as much as for clients with less than ideal, or adverse credit. This is because through our experience and knowledge of the market we have built semi exclusive relationships and deals with certain lenders that deal predominantly in large loans for homeowners.
If you have; CCJs/ Arrears/ Missed Payments or even if you are a discharged bankrupt you may have been told that you won`t be able to secure any finance, never mind a large loan but that isn`t always the case. Here at First Choice we aim to provide our clients with an option at every turn. Even managing to secure loans for people that have had, CCJs and arrears in the 24 months. Sound too good to be true? Well, give us a call on the above number and let us see if we might be able to obtain you the capital you need for the next project in your life. Once we have arranged a large loan for you it really can be used for any legal purpose.
Large Loans Quotes With No Credit Check
When it comes to borrowing money the lenders must be careful not to provide large loans that are unaffordable for the clients and they can stipulate what kind of borrower they would like to lend to. Basically, they provide criteria that you must fit and more often than not the criteria will have some kind of credit check that you have to pass. Like we mentioned earlier having adverse credit like a default or missed payment doesn`t always guarantee a fail on the lenders criteria. That is why it is best to speak to one of our loan team on the above number who will be able to guide you through the lenders criteria maze before you write yourself off.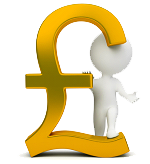 However, on occasion even our knowledgeable staff will not be able to find a lender where you will pass their criteria. If this is the case then you may not be able to borrow as much as you feel a large loan might constitute. Although we must remember, size isn`t everything and what one person thinks is a large loan another may not. Fortunately we can give you access to Guarantor loans broker that can enable you to borrow up to £15000 and they do not rely on your credit file as much. If you think that a loan of that value is large enough to help you we can offer to refer you to our associate company.
Large Loans Calculator
If you feel like you are fairly clued up on large loans and would like to see what it might cost you then head over to our loan repayment calculator. Our calculator allows you to calculate and break down the monthly repayment figures. You can choose the loan amount, interest rate and loan term. This will help you get a general idea of what you may be able to afford. Our calculators are equipped to deal with even the largest of loans and enable you to see the impact on your cash flow of consolidating your debts through a large loan, so feel free to test them out.
Don`t have time to work it all out yourself even using our
loan repayment calculator
? Don`t worry one of our in house finance team would be more than happy to try to help you and can give you a free personal quotation. Just fill in our short form from the top of this page or give us a call on 0800 2983000 (landline), on 0333 0031505 (from a mobile).
Can I Get A Large Loan With Bad Credit?
What Is A Credit Profile?
,
Can I Get A Large Loan With Bad Credit?
Yes we have numerous secured loan options for people with bad credit, all the way up to £150,000, as well as mortgage and remortgage options for people with bad credit up to £1,000,000. Our team of mortgage and home loan experts are here to serve you. You are not only a client, but you are treated like family. Our UK loan specialists understand the reality of the tough financial times and conditions facing many of us. We will work hard to get you the large loan you require to achieve your goals.
What Is A Credit Profile?
A credit profile is something that lenders use to identify the risks of lending to a specific individual, your credit profile paints a picture of your borrowing habits and how good you are at repaying your debts and meeting your financial obligations past and present. It is a good idea to use a free credit profile tool or get your statutory £2 equifax search occasionally to check where you currently stand with your loans and other credit items.
Your credit profile stores a number of different types of data on an individual:
Personal Information
Employment Information
Credit History
Public Record Data
Finance Applications
Large Mortgage Loans
Video transcript
When you fall in love with a new home, that loft conversion, conservatory or holiday home you can be utterly smitten, but you may well need to look into large mortgage loans in order to achieve your dream. Fortunately, First Choice Finance is on hand to get the funds sorted.

The Royal Institution of Chartered Surveyors (Rics) and building societies Nationwide and Halifax all indicate that growth in house prices in the middle of 2013 was showing strength not seen since before the financial crisis, with homes in London being the most expensive, but many areas are affected.

That`s why we`re able to help you achieve large mortgage loans from £10,000 to convert your garage up to £1.5 million in order that you can buy the designer penthouse that you desire or large family home with garden that your growing brood needs to expand into.

We can provide a range of home loans regardless of your credit history as we have access to multiple lending plans.

That means we have access to lenders representative of the whole of the market and can give you specialist advice, unlike traditional lenders and comparison sites, which can generally offer their own standalone lending or tables for you to then sort the mortgage yourself respectively.

The process is a simple one too – just talk through your requirements and relevant details and we`ll do the hard work for you, before presenting you with a no-obligation free personal quote, which you`re free to accept or decline, no pressure either way.

Find out more about securing large mortgage loans that offer you suitable terms to get the funding you need at firstchoicefinance.co.uk or by calling 0333 003 1505 from a mobile or 0800 298 3000 from a landline.Get 90% Mortgage Plan - 90% Mortgages Available, No Obligation Mortgage Advice.


Would Bad Credit Affect Me Getting Approved For A Large Loan?
How To Get A Large Loan?
Can I Get A Loan For £100,000?
What Is The Most I Can Borrow?
Can I Borrow More With A Joint Loan?
Would Bad Credit Affect Me Getting Approved For A Large Loan?
Bad credit will limit the number of bigger loan plans available to you, but it does not mean that you cannot get a large loan. Being approved depends on your whole scenario and reasons behind it, not just any bad credit items.
How To Get A Large Loan?
Banks, Building Societies, Specialist loan providers, mortgage providers and homeowner secured loan lenders all offer large loans. Loans over £30,000 are often going to need some sort of security for the lender, usually a property.
Can I Get A Loan For £100,000?
Borrowing a hundred thousand pounds is possible via a number of routes but will usually require a house, flat or business as security for it. Similar to the case with mortgages when buying a home, remortgaging your house or using equity release - this if for when older people wish to take money out of their property but not make repayments in their lifetime.
What Is The Largest Amount Of Money I Can Borrow?
Most lenders look at affordability when deciding how much a person / persons can borrow. This is not just based on how much you earn, bigger earnings may also be associated with bigger outgoings. So the maximum you can borrow is based on how much you can afford to pay each month after you have met any other bills / loans / credit card / mortgage payments you are already committed to. If you qualify for lower rates you may be able to borrow a larger amount because the lower rate will bring the monthly repayments down.
Can I Borrow More With A Joint Loan?
Joint loan applicants can often borrow more money. This is because there is usually a larger pool of `combined income` to meet the loan repayments and there is the added benefit to the lender that if one of the applicants is not able to meet the loan payments (due to loss of income etc) then the other applicant can hopefully step up and meet the agreed commitment.
Homeowner Secured Loans
9.8% APRC. Representative example: Borrow £50,000 over 180 months. 60 months at 8.1%, £497.83 pcm fixed at 60% LTV. Then 120 months at 10.1%, £539.89 pcm variable. Total payable £94,656.60. Total cost of credit £44,656.60 (including: £795 lender fee, £985 broker fee & £42,876.60 interest)..
Late repayment can cause you serious money problems. For help, go to
moneyhelper.org.uk
Established In 1988. Company Registration Number 2316399. Authorised & Regulated By The Financial Conduct Authority (FCA). Firm Reference Number 302981. Mortgages & Homeowner Secured Loans Are Secured On Your Home. We Advice Upon & Arrange Mortgages & Loans. We Are Not A Lender.

First Choice Finance is a trading style of First Choice Funding Limited of The Old Courtyard, 103 Buxton Road, High Lane, Stockport, Cheshire. SK6 8DX. Copyright protected.