Use Your Equity To Release Money Now And Choose To Make No Repayments In Your Lifetime - Borrow Money Via An Interest Only Mortgage, A Lifetime Mortgage Or A Retirement Interest Only Mortgage - Get £5,000 To £750,000 Tax Free And Spend As You Wish
Many people considering retiring or already retired are unsure about whether their return from pensions, both state and private, will be high enough for their goals. Understandably many people are now looking to other avenues, such as equity release, to try and maintain a good quality of life in their silver years. Equity release is often carried out via a lifetime mortgage. Our UK based team will explain your options for equity release lifetime mortgages through our panel of lender products. Our equity release services are only available to customers who are 55 years of age or older and can allow you to borrow money without making repayments until the end of your life or when you leave your home.
However
if you have equity and are younger than 55 we could still possibly help you to use your equity to obtain funds via a homeowner loan. In either scenario funds obtained can be used for almost any purpose.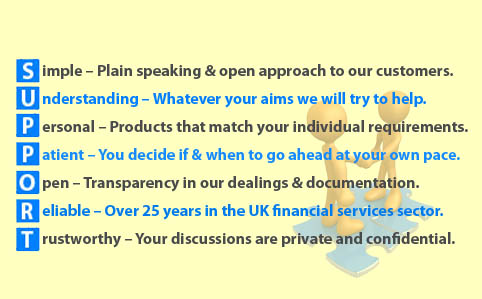 Simply get in touch with our equity release team for some confidential, no obligation help and find out what your options may be and the amounts available - so you can make a decision in your own time.
Advances can be staged so you could start by borrowing just £5,000 and take more only as and when you need it.
Larger advances from £10,000 up to £350,000 may also be arranged. If you would like one of our equity release advisers to talk you through your equity release or equity loan options and provide you with a free, no obligation quote, then please call us on
freephone 0800 298 3000
or
0333 003 1505
(mobile friendly), alternatively complete our short
on line enquiry form
and we will come back to you. In modern times many people that are already well into retirement may are probably more active than the previous generations,this together with longer life expectancy means retired people, as well as latter middle aged consumers with equity, are wanting to use their equity to explore the world, have their home refurbished or just enjoy a more enriched lifestyle. Releasing the equity from your property may enable you to do the things you have been waiting for without having to make any repayments during your lifetime.
Nobody should enter into any major financial commitment without careful consideration, that is why First Choice Finance will provide you a free personal quotation without obligation on equity release plans such as lifetime mortgages or equity loans. It is possible that if you are;
looking to cover a shortfall in your pension income or savings interest
want to help your grandchildren out with university fees
need to meet an unexpected expense or home repair
or you think it is about time you treat yourself and want to fund a long holiday
have run up credit bills on cards or loans and are unable to meet all the payments due
then an equity release mortgage or equity loan may be a solution. An equity release scheme allows you to remain in your home, so you avoid the hassle of trying to move or downsize, while providing you with an avenue to release some much needed funds.
Equity Release Mortgages Explained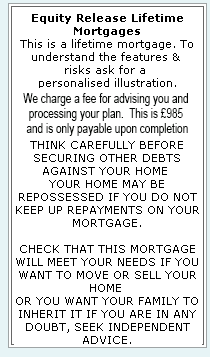 Equity release is a route to finance that allows individuals, generally from age 55 and over to release some money from the home they own either without having to make monthly repayments at all, or if preferred by just making payments towards the interest on a lifetime mortgage to keep the balance in check. Like all regulated mortgage contracts, an equity release mortgage is regulated by the Financial Conduct Authority which regulates companies who sell or advise on equity release schemes. Part of looking into products for our client involves exploring other avenues, for if you have good equity available in your home but not enough for a lifetime mortgage, a
remortgage
or a
secured loan
may be another suitable way of raising the money you require, subject to affordability of course. This can all be explored by your personal finance adviser by contacting us at your convenience on
0800 298 3000
from a landline or
0333 003 1505
from a mobile.
Equity Release Mortgage Lenders
Here at First Choice Finance we see the advantages of providing you access to equity release mortgages from a limited panel of equity release mortgage lenders. By dealing with a number of equity release mortgage lenders with some of the most innovative and competitive products on the market for lifetime mortgages. Not only that but our close standing relationships with these lenders helps to ensure we are kept up to date with the latest mortgage products .
Advice & Equity Release Mortgages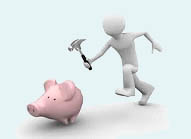 An equity release mortgage is known as a lifetime mortgage and can be a favourable method of raising finance against your home for mature citizens. If you are thinking of taking out an equity release mortgage then it is important that you fully understand the financial decision you are making and have weighed up the pros and cons before you decide if it is right for you. We suggest making an enquiry through an established advice providing finance company like ourselves p> Fill in our short online enquiry form and your enquiry will be placed in the capable hands of one of our equity release advisers to begin work on your free quotation. From start to finish you can contact your dedicated adviser to help you or answer any questions that should arise. Don`t worry if you think a question might be a little too obvious - we are here to help and our view is ``if in doubt then please ask``. Our in house processing team will keep you informed every step of the way, answering any queries you might have and facilitating a smooth completion of releasing your equity. If you have the time to talk now, then feel free to call us on the above numbers.
How Much Will An Equity Release Mortgage Cost Me?
The cost of an equity release mortgage is largely dependent on the type of plan you decide to take, how long you stay in the plan and possibly most importantly the amount of equity you want to release. When you enquire through us we can provide you with a personal key facts illustration for your particular circumstance. This can be provided completely free of charge and does not carry any obligation to proceed. At the end of the day we would not want to buy into anything without looking at the details first and equity release should be no different, so when you are ready to get some figures then fill in our short >>
on line enquiry form
<<.
Equity Release Lifetime Mortgages
This is a lifetime mortgage. To understand the features & risks ask for a personalised illustration. Our fee is £985 which is only payable upon completion.
THINK CAREFULLY BEFORE SECURING OTHER DEBTS AGAINST YOUR HOME. YOUR HOME MAY BE REPOSSESSED IF YOU DO NOT KEEP UP REPAYMENTS ON YOUR MORTGAGE.

CHECK THAT THIS MORTGAGE WILL MEET YOUR NEEDS IF YOU WANT TO MOVE OR SELL YOUR HOME, OR YOU WANT YOUR FAMILY TO INHERIT IT. IF YOU ARE IN ANY DOUBT, SEEK INDEPENDENT ADVICE.
Late repayment can cause you serious money problems. For help, go to
moneyhelper.org.uk
Established In 1988. Company Registration Number 2316399. Authorised & Regulated By The Financial Conduct Authority (FCA). Firm Reference Number 302981. Mortgages & Homeowner Secured Loans Are Secured On Your Home. We Advice Upon & Arrange Mortgages & Loans. We Are Not A Lender.

First Choice Finance is a trading style of First Choice Funding Limited of The Old Courtyard, 103 Buxton Road, High Lane, Stockport, Cheshire. SK6 8DX. Copyright protected.