Highest Loan To Value Purchase Mortgages And Remortgages - Low Rate Loans From £5,000 To £150,000 - Release Your Equity With An Equity Release Plan
If you are having difficulty finding a loan, a secured loan may be able to help, many secured loan plans accept people with an adverse or bad credit rating, if you have missed payments on your mortgage, existing loans or credit cards, are self employed, have outstanding debts or if your credit file has been impacted for some other purpose, First Choice Finance could help.
When you enquire online we will start our search to find you the best secured loan plan that best suits your requirements from our panel of lenders. A secured loan can be used to raise money for almost any purpose from consolidating your debts. buying a car, home improvements or any other purpose , secured loans differ from personal loans, often allowing people to borrow larger amounts over a longer period of time.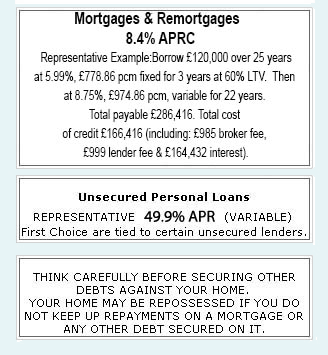 If you have existing debts then a secured loan from First Choice Finance can be used to rearrange your finances and reduce your monthly outgoings, Many short term finance are charged at a higher rate and if you pay off short term finance such as payday loans and credit cards over a longer term then you may find yourself paying back large amounts of interest, visit our loan calculator and debt consolidation calculator to see different payments and costs of consolidating your debts into a secured loan
Home Improvement Loans
Looking to borrow money for a home extension, double glazing windows, conservatory, new bathroom or kitchen, garden decking or any other home improvement a secured loan could be a good way to raise a larger amount, if you are looking for a smaller amount between £1,000 up to £5,000 the a personal loan may be a better solution but for larger amounts a secured loan may be what you need, secured loans are often also more available to people with a less than perfect credit rating, our loan finance experts will search our panel of lenders to find the best loan plan for your circumstances.
Car Finance Loan
If you have a bad credit rating some finance options may be unavailable, but if you are in need of buying a new car of maybe need some money for car repairs, First Choice Finance could help you release equity in your home with a secured loan, enquire online and we can help you through the loan process, as well as secured loans we could alternatively help you find a personal loan for your car or potentially a guarantor loan if you have a bad credit rating and are not a home owner.
An alternative to secured loans is remortgaging, First Choice Finance is a leading finance broker who offer both mortgages and secured loans, enquire online and we will search to find the best solution for you, if you have any questions are finance experts will be happy to answer them. Choosing a secured loan or remortgage will depend on a number of factors, a main factor when looking to remortgage is will you incur any early repayment charges, we will be happy to compare the different options to give you the best finance solution for your circumstances
Secured Loans for bad credit
From time to time, many of us find that we need to raise money to pay for something important, but if you`ve struggled to get the cash you need because you have incurred some bad credit, you may want to look at secured loans for bad credit, which you could get from First Choice Finance.
Large costs can either be something we`re aware of well in advance – like a significant anniversary, birthday or wedding – or it may be something that`s happened relatively quickly, like the car suddenly giving up the ghost and a replacement is needed for your family.
On the other hand, you may not be thinking of using a secured loan to buy something, perhaps instead you want to refinance your debts through a debt consolidation loan.
Many people do this to get peace of mind and smaller monthly repayments, although interest costs may be higher over a longer loan term, but the cashflow improvement can be a really big help. As with all things it is about getting the right balance and borrowing what you can afford to repay.
Either way, if you`ve had trouble paying off credit cards or other loans or credit in the past, you may have negatively affected your credit score, which may put banks off lending to you in the future.
According to Aqua, other factors that could result in you being declined a loan include making multiple credit applications or opening more than one bank account in recent months.
Fortunately though, that`s where secured loans for bad credit can help.
To find out more about securing £3,000 to £100,000 which can be paid off over a period of 3 to 25 years to suit your pocket, talk to First Choice Finance and see what we can do for you without obligation.
Please call
0800 298 3000
from a landline, ring
0333 003 1505
from a mobile or enquire on line at firstchoicefinance.co.uk.  
Homeowner Secured Loans
9.8% APRC. Representative example: Borrow £50,000 over 180 months. 60 months at 8.1%, £497.83 pcm fixed at 60% LTV. Then 120 months at 10.1%, £539.89 pcm variable. Total payable £94,656.60. Total cost of credit £44,656.60 (including: £795 lender fee, £985 broker fee & £42,876.60 interest). First Choice are tied to certain loan providers.


Mortgages & Remortgages
8.4% APRC.
Representative Example: Borrow £120,000 over 25 years at 5.99%, £778.86 pcm fixed for 3 years at 60% LTV. Then at 8.75%, £974.86 pcm, variable for 22 years. Total payable £286,416. Total cost of credit £166,416 (including: £985 broker fee, £999 lender fee & £164,432 interest)

Unsecured Personal Loans
REPRESENTATIVE 49.9% APR (VARIABLE)
First Choice are tied to certain unsecured lenders.
THINK CAREFULLY BEFORE SECURING OTHER DEBTS AGAINST YOUR HOME.
YOUR HOME MAY BE REPOSSESSED IF YOU DO NOT KEEP UP REPAYMENTS ON A MORTGAGE OR ANY OTHER DEBT SECURED ON IT.
Security is required on immovable property.
Late repayment can cause you serious money problems. For help, go to
moneyhelper.org.uk
Established In 1988. Company Registration Number 2316399. Authorised & Regulated By The Financial Conduct Authority (FCA). Firm Reference Number 302981. Mortgages & Homeowner Secured Loans Are Secured On Your Home. We Advice Upon & Arrange Mortgages & Loans. We Are Not A Lender.

First Choice Finance is a trading style of First Choice Funding Limited of The Old Courtyard, 103 Buxton Road, High Lane, Stockport, Cheshire. SK6 8DX. Copyright protected.