Highest Loan To Value Purchase Mortgages And Remortgages - Low Rate Loans From £5,000 To £150,000 - Release Your Equity With An Equity Release Plan
It is often said that life would be very dull if we were all the same and wanted similar things, this observation can be seen in the mortgages sector where consumers needing other mortgages, outside of the typical home purchase, home mover & remortgage mortgage market, have driven lenders and mortgage advisers to find more specialised mortgages to make sure that those customer`s requirements are met.
Business and / or Commercial Mortgages
If you are a business owner or partner and wish to raise money by mortgaging or taking a loan out on the assets of your business then we may well be able to help. Commercial Mortgages are often used when a company wants to expand and obtain new machinery or expand their staff to cope with growth in their volume of orders. Sometimes it may be that a company is looking to buy premises to improve their capacity and provide a long term solution to their work area requirements. Lenders and products in this area can be different to those in the home mover or home purchaser consumer market and therefore it is important you talk to a commercial and business mortgage specialist to set you on the right track. First Choice Finance is always happy to talk through your business mortgage requirements and even on an occasion that we do not have the right product or provider for you we will probably still be able to point you in the right direction.
Buy to Let Mortgages & Loans
In recent times Buy to Let has been getting a lot of press and volumes of mortgages taking out in this way do certainly seem to have grown in relation to other mortgage markets. Many would say this is due to Buy to Let investors having the larger deposits to hand to snap up the lower cost properties before the first time buyers have saved enough to get a foothold on the property ladder. For the same reason the number of families and individuals who are prepared to rent from a private landlord (a Buy to Let investor) for a while to have their own living space grows and so the cycle continues and is likely to do so until houses become more affordable to the first time buyers.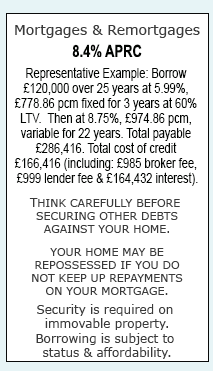 If you are already involved in Buy to Let and want to release some equity from one of more of your current properties or expand your portfolio or if you are thinking of getting your first home to rent out then please get in touch with us via the numbers at the top of this page or use the short enquiry form and we will use our experience and market awareness to help you achieve your But to Let mortgage goals.
Let to Buy Mortgages & Let to Buy Remortgages
Some people will read this heading and think what is that all about? Others of course will be well versed in the concept or will have already gone through the process of Let to Buy already. This is not a new concept but does lend itself to an environment where the housing market is sluggish, an occupier has found a new home they wish to move into but cannot sell the property they live in. Subject to the amount of equity in your current living address ( that`s the difference between your mortgage balance and your home`s value), alongside how much deposit you need to put down on the property you wish to move to together with how much rent you can get for your current address if you Let it to a tenant, you may be able to convert your current home mortgage to a Let to Buy mortgage possibly raising some money from the equity in your current home at the same time and take out a new mortgage on the home you are moving to. Clearly this is subject to various detailed criteria and critically being able to find mortgage lenders who are prepared to help you out. This is where First Choice Finance can give you a head start, by knowing which lenders are seeking which types of clients and being able to provide them with the correct supporting evidence and proper documentation on your behalf we can help you get your Let to Buy mortgage through and arrange for your purchase mortgage on your new home simultaneously, taking the headaches away from you and minimising stress even if you have never even heard of a Let to Buy mortgage before.
Right to Buy for Council Tenants or Right to Acquire for Housing Association Tenants
Living in rented accommodation in either a Right to Buy home you have been allocated by your local council authority or in a home provided to you by your regional housing association does not necessarily mean you will be renting it from them long term. Many Councils or Housing Associations will have schemes in place whereby you can apply to them to purchase the home you are occupying once you have lived there for a while. This is usually a number of years and in the first instance it is a good idea to contact your local council or housing association to find out if you can apply and get them to send you the relevant form. As soon as they say you can buy it from them there will usually be a significant discount on the price you will have to pay compared to the actual value of the property, this is provided because you have been paying rent to them all the time you have been living there, so it gives you something back. You are now ready to talk to First Choice Finance where you will be allocated your personal mortgage adviser who will pro-actively support you through each step of buying your Right to Buy or Right to Acquire home and joining the ranks of UK homeowners.
Established In 1988. Company Registration Number 2316399. Authorised & Regulated By The Financial Conduct Authority (FCA). Firm Reference Number 302981. Mortgages & Homeowner Secured Loans Are Secured On Your Home. We Advice Upon & Arrange Mortgages & Loans. We Are Not A Lender.

First Choice Finance is a trading style of First Choice Funding Limited of The Old Courtyard, 103 Buxton Road, High Lane, Stockport, Cheshire. SK6 8DX. Copyright protected 2014-2018.