Highest Loan To Value Purchase Mortgages And Remortgages - Low Rate Loans From £5,000 To £150,000 - Release Your Equity With An Equity Release Plan
Which mortgage type you choose for your property can be a daunting task, whether it is to purchase a new home or simply to remortgage your existing one, there are a lot of things to consider whilst ensuring you are trying to get the best possible deal for your situation. Here at First Choice Finance we understand fully the need to pick the right mortgage type and having been helping UK consumers get it right for around 25 years
Essentially getting a mortgage is rather straightforward; you borrow money against a property and then pay interest on the money you borrowed. Unfortunately things get more complicated when you look at the plethora of mortgage types available to you. It`s always great to get some background information so let us break it down for you by answering some key questions. Once you have digested our comments if you still have unanswered questions give us a call on the above number and one of our expert advisers will fill in the gaps. If you are ready to find a mortgage type for you then either use the online form or call us and we will take the details for you over the telephone.
How do I Pay Back the Capital?
One of the most important factors you should consider when looking at different mortgage types is simply; How to pay back the capital? How you repay your mortgage is just as important as the interest rate you choose to borrow at. The most common options currently available to you are: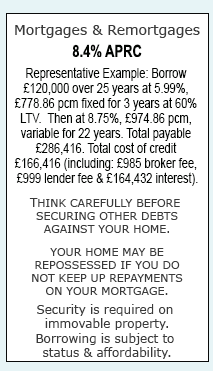 Capital and Repayment- Often the most popular choice. This type of mortgage involves paying off a portion of the interest and capital every month. The figure that you pay each month is calculated so that at the end of your mortgage term, you will have not only paid off the loan but you will now own the house in full.
Interest Only- This one is more self- explanatory. As the name implies if you choose to or take advice and are recommended to take out an interest only loan, you only pay off the interest that your loan has acquired each month. That means none of the capital. If your mortgage runs the whole term then you will still owe your entire original loan. If you pay it off early you will need to pay any early repayment charges associated with the mortgage contract and the original amount borrowed. This is why it is very important that you arrange some other way to repay the loan at the end of the term; for example, through an investment or savings plan.
Part and Part- This is designed to combine both a Repayment and Interest only mortgage into one mortgage type. The way it works is that part of your mortgage is interest only and the rest is repayment. You can usually decide where you want the split to be e.g. 50% capital and 50% interest, subject to affordability and criteria. At the end of the mortgage term in this case you will probably still have some capital outstanding but less than in the case of an interest only mortgage. So you will still need to consider how you are going to deal with that sum before it falls due.
Interest Rates
An interest rate is the rate at which interest is paid by borrowers for the use of the money that they have borrowed from the lender. You have to pay interest on your mortgage and the range of options available is another factor for different mortgage types. The mortgage marketplace offers numerous varieties of interest rates but the most common are:
Fixed rates- The monthly repayment is fixed for a specific period of time; normally 2-5yrs, regardless of any changes to the Bank of England`s base rate or a lenders Standard Variable Rate.
Variable rates- The monthly repayment is calculated by the current rate on your mortgage. This rate can change every time your lender changes its rates change or the overall effect of any interest rate changes over a year is calculated once a year each year and payments are then adjusted accordingly.
Capped rates- Similar to fixed rates but if the rate (normally the Standard Variable Rate) drops then you pay the lower rate. So your payments can go down but they cannot go above the amount due at the capped rate, as the capped rate is the highest your mortgage rate can go during the agreed period of the capping.
Discounted rates- You are offered a discount off the lenders Standard Variable Rate (SVR) and then like a normal variable rate the monthly repayment due fluctuates in line with the SVR and your payments are adjusted according to the method laid down in your mortgage contract.
Mortgage Types for Specific Properties
On occasion certain lenders like to exist in niches in the market and offer certain mortgages for specific properties or specific situations. This can often mean that the type of mortgage you are able to obtain can, to a degree, be dictated for you. Some of your options in regards to mortgage types are taken out of the equation already but this can also mean that you could get a better deal that you expected as a lender might be an expert in the field.
Examples of when this may occur:
Buy to Lets
Second Homes
Shared equity
Overseas mortgages
First Time Buyers
Right to Buy
Other Features or Benefits
If you have managed to narrow down the type of mortgage you are after i.e. you have decided upon a repayment method, your preferred rate type and your desired property specification then it`s worth a look at some other features or benefits a lender may be able to offer you.
These may include but are not restricted to:
Flexi mortgages
Offsetting your mortgage
Cash back deals
Free legal costs (or contribution towards them)
Free valuation costs (or contribution towards them)
As you can see the list of mortgage types available to you is extensive and sifting through your options may be a disheartening task so give us a call, or complete our online enquiry form. A few questions might be all it takes to point you in the right direction and you will not be put under any obligation to use our mortgage advice services.
Mortgages & Remortgages
4.5% APRC
Representative Example: Borrow £80,000 over 25 years At 4.6% Variable, £461.95 for 300 months.
Total Payable £138,585. Total Cost Of Credit £58,585 (incl £1360 fee)
THINK CAREFULLY BEFORE SECURING OTHER DEBTS AGAINST YOUR HOME.
YOUR HOME MAY BE REPOSSESSED IF YOU DO NOT KEEP UP REPAYMENTS ON YOUR MORTGAGE.
Security is required on immovable property.
Established In 1988. Company Registration Number 2316399. Authorised & Regulated By The Financial Conduct Authority (FCA). Firm Reference Number 302981. Mortgages & Homeowner Secured Loans Are Secured On Your Home. We Advice Upon & Arrange Mortgages & Loans. We Are Not A Lender.

First Choice Finance is a trading style of First Choice Funding Limited of The Old Courtyard, 103 Buxton Road, High Lane, Stockport, Cheshire. SK6 8DX. Copyright protected.