Highest Loan To Value Purchase Mortgages And Remortgages - Low Rate Loans From £5,000 To £150,000 - Release Your Equity With An Equity Release Plan
First Choice Finance is a prominent finance company with 25 years experience in a very complex industry. We want to make obtaining your mortgage loan or homeowner loan process as simple as possible, this includes keeping our current and future clients supported and informed throughout the process of getting your money. Our mortgage calculators can go a long way to helping with this. We have developed an LTV calculator, a consolidation calculator and both mortgage or loan repayment calculators to give you all the tools necessary to get a feel for what mortgage you can consider and how much it might cost you. We encourage you to use our mortgage repayment calculator to get an idea of the payments at different market rates. When the numbers look affordable call us to receive a personalised free quote for the rates available to you through us. Contact our finance advisers on
0800 298 3000
(landline)
0333 003 1505
(mobile) or fill in our
on line enquiry form
to get started.
Mortgage Repayment Rates
The best mortgage deals are often considered as those that offer the lowest rates. If you use the mortgage repayment calculator you will see that a lower interest rate constitutes a lower mortgage payment. Aside from being a lower monthly payment a lower rate also means that you will pay less overall interest on your loan for the duration of the term. Fill in our short online enquiry form with a few details of your mortgage enquiry and our friendly advisers will give you a call back to discuss the competitive mortgage repayment rates available to you.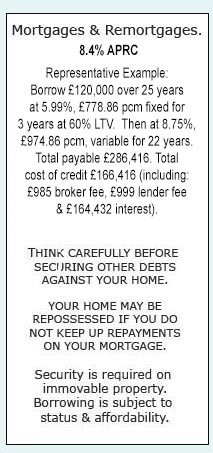 It may well surprise you what rates are available for customers with a good, fair or even sometimes a poor credit history.
Repayment Vs. Interest Only
The mortgage repayment option is something that you need to consider when you are looking at taking out a mortgage. The decision, which is one of the biggest you will make, is between capital and repayment and interest only, or potentially a blend of the two, know as a part and part mortgage. For more information on these repayment types give us a call or fill in our one minute on line enquiry form, to get you a better idea of which is best suited to your circumstances.
To help you make this decision our mortgage repayment calculator will calculate how much your monthly repayment would cost you on both capital & repayment and interest only. From there you can see which option is most suited to your affordability and needs.
Mortgage Repayment Terms
The term you choose to repay your mortgage over is largely down to your individual circumstance and most importantly affordability. There are a number of reasons why you would want a differing term. For example, if you are reaching retirement age in the next few years you may want the shortest term possible, although this would involve larger monthly repayments it would mean the mortgage is paid off as soon as possible, leaving your retirement years without the worry of having to make mortgage repayments. Our mortgage repayment calculator allows you to freely change the mortgage term to your liking. Why not see how much it would cost you over 25 years and then slowly decrease the term to see the shortest repayment term that you can afford for a rate you choose? If you have any questions on what the Mortgage Loan our lender`s believe is affordable you can call the above number and one of our experienced mortgage advisers will help you with any queries you may have.
Loan Calculators
For whatever reason a mortgage may not be what you are after. If you have used our mortgage repayment calculator and decided you want to look at other methods of raising finance like a homeowner secured loan for example, we can help with that too. There are many reasons that would mean a
homeowner secured loan
is a more viable option. If you wanted to raise money to enhance your property, consolidate some debts or even need a new car, but were still in a fixed rate period on your mortgage with costly penalties if you switch now and therefore didn`t want a refinance mortgage we could look to arrange you one of our any purpose homeowner loans. Head over to our loan calculator page to compare the costs. When you are happy with some of the figures give us a call on the above number and we can look at the best loan plans we have available for your situation.
Calculate your mortgage payments
Using a remortgage calculator is a fairly common step to take before you secure an alternative mortgage on your property and First Choice Finance can help you feel fully informed.
There are plenty of key reasons why you may want to remortgage your property, but if you want to keep your mortgage as it is, another method of using the equity within your home is through a second mortgage or secured loan. This means you could access the money you need to spend on a whole range of options.
They are used by some as consolidation mortgages, which can allow you to pay off all of your unsecured loans, credit cards or store cards in one go. Once things like your credit card and personal loans have been refinanced, you`ll aim to just have a single repayment to make each month with reduced out goings and hopefully reduce stress levels. Please bear in mind refinancing credit through a remortgage or second mortgage can result in you paying back more money over the loan term.
Using the remortgage calculator before taking out this kind of loan will enable you to see how much you might save each month, as it will show you what your prospective repayments would be with the new deal.
The money could also go towards buying items that you may not currently be able to afford but are needed or overdue, like home improvements, a special holiday for an anniversary or birthday, or buying your very own caravan.
Alternatively, you could use the remortgage calculator to see if you`ll save money by switching to a different home loan provider. While a new deal may have a lower rate, you may need to pay an early repayment charge to your existing lender, our advisers will work through the numbers and implications with you.
Find out more about the remortgage calculator at firstchoicefinance.co.uk, call us from a mobile on
0333 003 1505
or give us a ring from a landline on
0800 298 3000
.
Your loan to value is an important part of determining what mortgage rate you will achieve the lower the loan to value the better the mortgage rate you will achieve. Your LTV is calculated by taking the value of your property value and the mortgage balance or amount you are wanting to borrow. The amount borrowed is divided by the property value, then multiplied by 100 this will give you the LTV percentage. Mortgage plans are available for borrowers looking up to around 95% LTV.
Benefit from the knowledge of finance experts let our qualified mortgage advisers search for the optimal mortgage plans for your individual circumstances. We will look to find mortgages at low interest rates for your situation. . Our expert adviser will walk you step by step on how to create your individual financing mix, searching for the best solution for you, mortgages, secured loan, personal loan, depending on the best solution for your circumstances, with finance plans for singles, self-employed, married couples with children as well as the elderly, we treat each finance enquiry by a case by case basis.
Through the process our in house advisers will explain the technical terms and help you to calculate your monthly financial burden and inform you about the different funding opportunities.
Calculation of the financing of buying a property
A mortgage is a long term commitment. Therefore, should always be ensured that the financing costs also permanently fits into your budget. You need to consider the differences between your income and expenditure so you know how much you are able to afford your mortgage.
Determining the maximum mortgage amount
After you have gained clarity about your personal finances, the determination of the maximum mortgage amount is considered. This is the sum of money you are able to borrow, when deciding the maximum loan amount that the amount of interest will change depending on your personal circumstance. After expiry of the fixed interest period of interest the interest rate may change depending on the mortgage deal that is chosen. The amount you are able to borrow depends on a number of factors, these include the your credit rating, salary the loan to value and property value, when you enquire online to First Choice Finance a qualified mortgage adviser will go through your requirements and find the best plan suited to your needs.
Getting additional capital from your property
Many people use their property to get additional funds by borrowing on the equity they have within the property. When you remortgage you are able to borrow extra cash depending on the equity you have available, you are able to raise money for almost any purpose including debt consolidation, home improvements, a newer car, whatever the purpose.
THINK CAREFULLY BEFORE SECURING OTHER DEBTS AGAINST YOUR HOME.
YOUR HOME MAY BE REPOSSESSED IF YOU DO NOT KEEP UP REPAYMENTS ON YOUR MORTGAGE.
Security is required on immovable property.
Late repayment can cause you serious money problems. For help, go to
moneyhelper.org.uk
Established In 1988. Company Registration Number 2316399. Authorised & Regulated By The Financial Conduct Authority (FCA). Firm Reference Number 302981. Mortgages & Homeowner Secured Loans Are Secured On Your Home. We Advice Upon & Arrange Mortgages & Loans. We Are Not A Lender.

First Choice Finance is a trading style of First Choice Funding Limited of The Old Courtyard, 103 Buxton Road, High Lane, Stockport, Cheshire. SK6 8DX. Copyright protected.