Highest Loan To Value Purchase Mortgages And Remortgages - Low Rate Loans From £5,000 To £150,000 - Release Your Equity With An Equity Release Plan
Loans can be a complex subject and people often have many questions when looking into taking out a loan. Below is a list of some of the more frequently asked questions that we have come across in our 25 years of experience. For more information or to get an answer to any other questions you may have please don`t hesitate to contact us - enquire online with the short form at the top of this page or by telephone on
0800 298 3000
(landline)or
0333 003 1505
(mobile friendly), any quotes will be provided for free and without obligation and however unique your scenario we will always do our best to help.
Which loans do you offer?
We specialise in arranging or sourcing various loans for our clients. Over the last 25 years we have helped thousands of clients raise money for a very wide variety of purpose. Our homeowner secured loans are available to homeowners and mortgage payers only. Personal unsecured loans and guarantor loans are potential borrowing options for tenants and homeowners alike. As well as loans we find for our clients and provide advice on; remortgages, purchase mortgages, buy to let mortgages and commercial mortgages.
How much can I borrow?
Our loans can help you raise money for virtually any project or purpose. Secured Home owner loans start from £3,000 and can be arranged up to £100,000. Personal unsecured loans range from just £500. Mortgages and remortgages start at just £10,000 and go up to millions of pounds depending on your needs and circumstances. So bear in mind if you are looking to take out a large loan of over £100,000 First Choice could still help via our remortgaging service.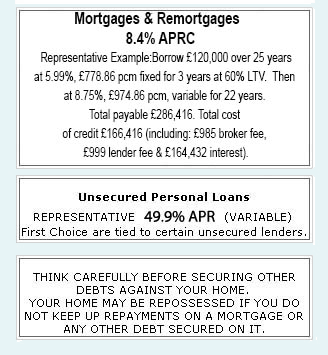 Can you help if I want a personal loan or if I am a tenant?
If you are not a homeowner or require an unsecured personal loan we can also give you access to a selection of personal loans for tenants or personal loans for smaller amounts ranging from £500 to £10,000. These are usually arranged over terms of 6 months up to 5 years maximum and are arranged through our specialist personal loan lenders or associates. Alternatively if you are currently renting but would like to try and buy your first property or want to get back onto the housing ladder we could directly help to find you a purchase mortgage. Whatever you are looking for start by completing the online
enquiry form
or give us a call at your convenience.
Who can apply?
Our home loans are open to any one with an income who owns a property with a mortgage or own it outright. The income can be through employment, self employment, sole trader, a pension, certain long term benefits or in some cases a mixture of a few of these. First Choice Finance can help in a number of ways, for example; by giving you access to specialist lenders. These lenders are able to lend to people in various circumstances. Whilst we have helped many consumers who have a good credit history to find finance, this access to specialists enables us to try and help people who have been unfortunate enough to find they have a challenged, poor or even bad credit rating. The key is to remember that even if you have been refused for a loan in the past, we still may be able to help.
What is the loan term?
The loan term is the number of months or years you agree to pay back the loan over. Usually you can arrange a loan term to suit you in line with affordability. For home loans they range between the shortest term of 3 years and can be spread over as long as 25 years. Depending on your circumstances, we will endeavour to find the correct balance between keeping your monthly repayments low and paying your loan of as soon as possible. First Choice Finance can also help you if you are seeking small loans from as little as £500 to £10,000, with access to personal loans for home owners and tenants that range from 6 months year up to 5 years.
Can I pay the loan of early?
At any time during our lives many of us will come into a significant sum of money. This may be through an inheritance, a large bonus from work, winning a competition or the lottery, or even the discovery of a valuable antique. However you come into the additional funds you can use them to pay of your loan at any time during the loan term. You will only have to pay back the capital balance that is remaining at that time plus a maximum of two months interest. Any other charges will have been detailed to you in writing before you take the finance out.
Is there a fee for sourcing and processing a home loan?
Taking out a home loan involves significantly more work for the finance company than arranging a personal loan. Therefore finance brokers and companies that can find these loans and process them for you will charge a fee for their services. Any such fee will be reflected in the APR (The Annual Percentage Rate) and shown on your credit agreement and will be fully disclosed to you verbally and in writing before you accept the funds and start the loan.
What can I use the money for?
There are very few restrictions when it comes to deciding how you want to spend the money raised through your loan. Mainly concerning not using it for illegal activities, which is just plain common sense. Common reasons to take out a loan include;
Home improvements or refurbishments - Bathroom, Kitchen, Conservatory, Loft Conversion.
Debt Consolidation or refinancing - Paying off credit or cards & personal loans to ease cash flow.
Special Occasion or Holiday - Sons / Daughters 18th or 21st Birthday, Family Cruise, Anniversary.
Major Purchases - New Car, Caravan, Static Holiday Home, Boat, Motorbike, Cosmetic Surgery.
As you can see there are very purchases that are not covered here. However this list is not exhaustive, there are plenty of other ways to spend the money raised. If in doubt give us a call or
complete our 60 second form
and our finance team will be glad to help.
Homeowner Secured Loans
Rates From 7.1% APRC Representative Example £30,000 over 72 months @ £679.90 repayments. Total payable of £49,949. 20.1% APRC including £2,975 intermediary fee and a £995 lender fee. Loans secured on property. First Choice are tied to certain loan providers.


Mortgages & Remortgages
4.5% APRC
Representative Example: Borrow £80,000 over 25 years At 4.6% Variable, £461.95 for 300 months.
Total Payable £138,585. Total Cost Of Credit £58,585 (incl £1360 fee).

Unsecured Personal Loans
REPRESENTATIVE 49.9% APR (VARIABLE)
First Choice are tied to certain unsecured lenders.
THINK CAREFULLY BEFORE SECURING OTHER DEBTS AGAINST YOUR HOME.
YOUR HOME MAY BE REPOSSESSED IF YOU DO NOT KEEP UP REPAYMENTS ON A MORTGAGE OR ANY OTHER DEBT SECURED ON IT.
Security is required on immovable property.
Established In 1988. Company Registration Number 2316399. Authorised & Regulated By The Financial Conduct Authority (FCA). Firm Reference Number 302981. Mortgages & Homeowner Secured Loans Are Secured On Your Home. We Advice Upon & Arrange Mortgages & Loans. We Are Not A Lender.

First Choice Finance is a trading style of First Choice Funding Limited of The Old Courtyard, 103 Buxton Road, High Lane, Stockport, Cheshire. SK6 8DX. Copyright protected.