Highest Loan To Value Purchase Mortgages And Remortgages - Low Rate Loans From £5,000 To £150,000 - Release Your Equity With An Equity Release Plan
First Choice Finance bring you a selection of loan calculators to help you determine the cost of your loan at different interest rates. Our loan calculators are simple and free to use. They can be used to calculate how much you will pay each month on different loan sizes at different interest rates with various loan repayment periods. You can use our calculation tools to find out your loan repayments, budget for the cost of consolidating your debts and you can even find out how much equity you have with our LTV calculator. If you want to receive a no obligation free quote, or just wish to talk to someone about your particular finance goals from our in house finance team, complete our short
on line enquiry form
(no credit search is carried out) or call and speak to us confidentially on
0800 298 3000
(free on a landline) or
0333 003 1505
(mobile friendly).

Repayment Calculator
Use our repayment calculator to work out your borrowing & repayments.

Debt Calculator
debt consolidation calculator to find out whether you can save money by consolidating your loans & credit cards

Loan To Value Calculator
This free online loan to value calculator will calculate your LTV and LTV Ratios.
Knowing what your loan payments may be for consolidating your debts into a debt consolidation loan are important questions, First Choice Finance have a selection of calculators for you to use for illustration purposes, please note figures may vary depending on your individual circumstance for a more detailed illustration please contact one of our finance experts who will give you a no obligation free quote tailored for you.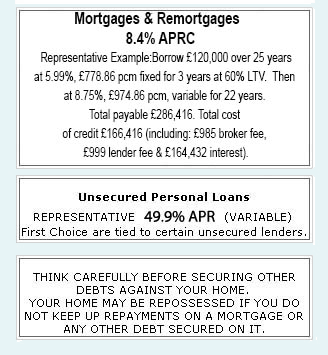 Personal Loan Calculator
- Calculate your monthly repayments for your personal loan, enter the interest rate, loan amount and loan term and you will receive your monthly payments as well as the full cost of the loan over the loan term. Personal Loans are usually between £1,000 and £10,000 over a term of 1 year up to 7 years
Secured Loan Calculator
- If you are a home owner or mortgage payer and wish to borrow a larger amount or spread the payments over a longer period (terms range from 3 to 25 years), then a homeowner secured loan may be an alternative option. You can try different loan amounts with the loan repayment calculator, enter loan term, interest rate and loan amount then view the full payment details.
As well as loans First Choice Finance also offer an extensive selection of mortgages or remortgages and offer a selection of mortgage calculators
Here at First Choice Finance we give you access to a selection of free loan and mortgage calculators and tools to help you structure your finances, loan calculators include a loan repayment calculator, debt consolidation loan calculator and a credit profile tool

If you want a more personalised view simply complete our simple online loan application form and you will be contacted by one of our loan experts who will search for the best loan plan from our panel of lenders to find the best loan deal to suit your needs, all loan quotes are provided FREE.


If you borrow £25,000 over 15 years at an APR of 17.9% you will end up repaying £400.81 per month, total payable £72,145.80. It is important to remember the loan rate you receive will depend on your individual circumstances, extending the loan term will reduce your monthly repayments but will increase the total amount repayable over the term of the loan, early repayment of the loan will decrease the total cost of the loan
Homeowner Secured Loans
9.8% APRC. Representative example: Borrow £50,000 over 180 months. 60 months at 8.1%, £497.83 pcm fixed at 60% LTV. Then 120 months at 10.1%, £539.89 pcm variable. Total payable £94,656.60. Total cost of credit £44,656.60 (including: £795 lender fee, £985 broker fee & £42,876.60 interest). First Choice are tied to certain loan providers.


Mortgages & Remortgages
8.4% APRC.
Representative Example: Borrow £120,000 over 25 years at 5.99%, £778.86 pcm fixed for 3 years at 60% LTV. Then at 8.75%, £974.86 pcm, variable for 22 years. Total payable £286,416. Total cost of credit £166,416 (including: £985 broker fee, £999 lender fee & £164,432 interest)

Unsecured Personal Loans
REPRESENTATIVE 49.9% APR (VARIABLE)
First Choice are tied to certain unsecured lenders.
THINK CAREFULLY BEFORE SECURING OTHER DEBTS AGAINST YOUR HOME.
YOUR HOME MAY BE REPOSSESSED IF YOU DO NOT KEEP UP REPAYMENTS ON A MORTGAGE OR ANY OTHER DEBT SECURED ON IT.
Security is required on immovable property.
Late repayment can cause you serious money problems. For help, go to
moneyhelper.org.uk
Established In 1988. Company Registration Number 2316399. Authorised & Regulated By The Financial Conduct Authority (FCA). Firm Reference Number 302981. Mortgages & Homeowner Secured Loans Are Secured On Your Home. We Advice Upon & Arrange Mortgages & Loans. We Are Not A Lender.

First Choice Finance is a trading style of First Choice Funding Limited of The Old Courtyard, 103 Buxton Road, High Lane, Stockport, Cheshire. SK6 8DX. Copyright protected.