Choose From A Huge Selection Of Second Mortgage Plans - Take Out A Second Mortgage To Buy Another Property Or For Any Other Purpose - Find Out How Much You Can Borrow And The Repayments Before Your Decide
Over the last 30 years at First Choice Finance we have often been asked the question `Is it possible to have more than one mortgage?` Fortunately, the answer can sometimes be simply ` yes`, because you do not have to be restricted to just the one mortgage, be it on your residential property or another property you own, in fact some customers have three, four, five or more mortgages spread across a portfolio of properties.
There are effectively two ways of interpreting a second mortgage, which are used for different second mortgage scenarios.
The first definition of a second mortgage is where you borrow an amount of money from a lenders secured products in the form of a first charge mortgage (possibly a buy to let mortgage) to buy a property to rent out, use as a holiday home or give to your family.
The second definition is when you take out a homeowner loan (a second mortgage) that sits behind the current mortgage on either your residential home or on another property you own. These are sometimes called secured loans, as well as second mortgages. These range from £3,000 to £250,000.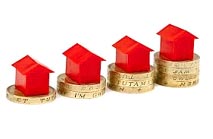 Whether it is a second mortgage on your residential property, a completely new mortgage on a buy to let property, a second home or a homeowner loan you are seeking, we offer all of these options and are on hand to give you an idea of your options. Please call our UK based mortgage team for free on
0800 298 3000
or
0333 003 1505
(mobile friendly) or fill in our
on line enquiry form
to see if we can help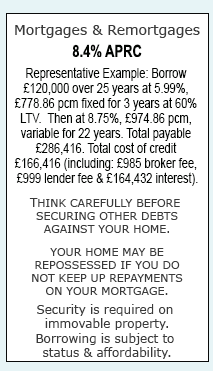 and for your free quotation.
Second Mortgages Also Known As Secured Loans
It is often the case that a second mortgage is viewed as another loan that sits behind your existing (first) mortgage and is also secured against the property. As it is secured against a property, often residential, it can be classed as a mortgage. However, in the mortgage industry, second mortgages of this nature are referred to as either a secured homeowner loan or a second charge on the property. The second mortgage term comes about because the charge is of secondary priority to your main mortgage. The collateral position for the lender means that some of the plans allow for loans to be provided even if you have been unlucky enough to incur some bad credit or missed payments.
First Choice specialises in many second mortgages, with access to semi-exclusive deals from some of the
leading secured loan lenders
in the market. Our any purpose loans in particular, can hold the key to revitalising your finances. Some common reasons we come across for these loans are home improvements, debt consolidation, special occasion, credit repair, vehicle purchase or to put towards buying or renovating another property. Bear in mind that the secured homeowner loan can also be taken out on property you own but do not live in.
Buy To Let Mortgages
Expanding your property portfolio can not only be a rewarding experience but also a great investment for your future at a time when current pension plans may not be so appealing. If you are looking to branch out into the buy to let property market then let us help you become a bona fide landlord. Many of our customers come back to us with request for not just a second mortgage but a third or fourth as they expand their property portfolio. We would ask that if you are unsure about taking this route you should seek independent financial advice from an investment specialist before you take on a buy to let mortgage. However once you are ready to hear what the costs may be, even if it`s just to get an idea of what deals you might get then contact us and ask for a free no obligation quotation
Expanding your property portfolio can be a great investment but should be done only after careful consideration.
Second Home Mortgage
Although there are fewer lenders and plans who operate in this market, First Choice Finance longevity ensures that our customers will continue to have unprecedented access to some of the very best rates and products on the market for a second mortgage, whether specifically for second homes or not. When it does come to a second home mortgage, the rates can be slightly higher than for a directly compatible residential counterpart and the mortgage must be deemed affordable alongside your existing mortgage or covered in the main by anticipated rental income if you decide to use it as a buy to let instead. So if you have already laid eyes on your dream holiday home give us a call on the above number or fill in the one minute on line enquiry form and let us help you make that dream a reality.
Second Mortgage Calculator
If you already have an existing mortgage and are currently looking for your second mortgage, the chances are you will be clued up when it comes to budgeting for your repayments each month. Realising the importance of monthly budgeting for your financial outgoings you will understand that doing the same for your second mortgage is just as important. We want to provide you with all of the tools necessary to make this part of the process as easy and effective as possible. If you are looking for a second mortgage on your current residential property head over to our secured loan calculators to crunch the numbers. Feel free to test out our remortgage calculator to see how different rates and terms could affect your payments if you choose to remortgage either your own home or a buy to let property you currently have. When you want some accurate figures and want to discuss affordability feel free to fill in our quick online application form and one of our in house advisers will get back to you.
With a second mortgage you have optional loan terms up to 25 years, First Choice Finance have an extensive range of secured loans from some of the leading lenders on the UK finance market
THINK CAREFULLY BEFORE SECURING OTHER DEBTS AGAINST YOUR HOME.
YOUR HOME MAY BE REPOSSESSED IF YOU DO NOT KEEP UP REPAYMENTS ON YOUR MORTGAGE.
Security is required on immovable property.
Established In 1988. Company Registration Number 2316399. Authorised & Regulated By The Financial Conduct Authority (FCA). Firm Reference Number 302981. Mortgages & Homeowner Secured Loans Are Secured On Your Home. We Advice Upon & Arrange Mortgages & Loans. We Are Not A Lender.

First Choice Finance is a trading style of First Choice Funding Limited of The Old Courtyard, 103 Buxton Road, High Lane, Stockport, Cheshire. SK6 8DX. Copyright protected.