Highest Loan To Value Purchase Mortgages And Remortgages - Low Rate Loans From £5,000 To £150,000 - Release Your Equity With An Equity Release Plan
Let First Choice Finance start your search for a new mortgage. As expert mortgage finders our qualified mortgage advisers will compare mortgages from a large selection of lenders to find a mortgage plan suited to your needs and requirements.

Deciding on the best mortgage for you can be difficult with many variable to consider, how long do you want the mortgage over, how much do you need to borrow, what monthly repayments can you afford, your individual circumstances and what type of mortgage do you want.

Our qualified mortgage advisers will discuss these questions and more to ensure you have the mortgage deal that suits you, with a large panel of lenders we can help find all different types of mortgage, so if you have bad credit, existing debts or looking for a low rate mortgage plan First Choice Finance is a great place to start your search.
Fixed Rate Mortgages
A fixed rate mortgage allows you to plan your monthly finances and need the financial security that you can budget and plan every month then a Fixed Rate Mortgage could be just what you need. With a fixed rate your initial rate will not change for the duration of the fixed period of the mortgage this often varies between 2-10 years.

Find Fixed Rate Mortgages
Variable Rate Mortgages
When interest rates are low, a variable rate remortgage may be the remortgage product to choose for you.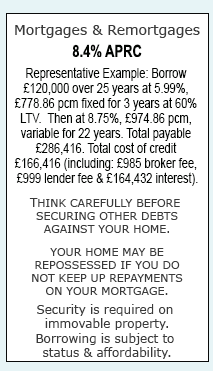 Variable rate remortgages tend to have lower interest rates, it has made them a popular choice in more recent times; however, the downside is that the remortgage rate can be changed at any time. If the Bank of England decided to increase their base rate at any time, the variable remortgage rate would also usually rise. Therefore, although you will typically be paying less for your remortgage, if the rates were to increase, your monthly remortgage repayments would also increase due to the fluctuation of interest rates. However, the advantage is that if there was a reduction in the base rate, the variable remortgage rate would decrease which in turn would reduce your monthly remortgage repayments.

Find Variable Rate Mortgages

First Choice Finance can help you find whatever mortgage you are looking offering qualified mortgage advise we can help you throughout the mortgage process from start to finish, all quotes are free and we consider all enquires
Established In 1988. Company Registration Number 2316399. Authorised & Regulated By The Financial Conduct Authority (FCA). Firm Reference Number 302981. Mortgages & Homeowner Secured Loans Are Secured On Your Home. We Advice Upon & Arrange Mortgages & Loans. We Are Not A Lender.

First Choice Finance is a trading style of First Choice Funding Limited of The Old Courtyard, 103 Buxton Road, High Lane, Stockport, Cheshire. SK6 8DX. Copyright protected 2014-2018.