Speak to us about your secured loan borrowing options. We will establish your requirements and then advise you of the best options available from our panel of lenders.
You can compare generic examples of secured loans in our secured product provider comparison table below. Secured loans are secured on your home in the same way as a mortgage and carry the same risks.
Our customers have been successfully taking out secured or homeowner any purpose loans for over 25 years. That time has allowed us to build a strong choice of secured lender plans with options to suit a wide variety of scenarios - which is vital as most secured loan second charge only lenders simply do not deal with the public directly. Helping so many people has enabled us to fine tune our processes to find the
the right way to get you the money you are seeking when you need it
& for the purpose you decide to spend it on.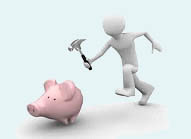 Taking out a secured loan is a big decision so to avoid any pressure we will furnish you with a no obligation personal & confidential fast quotation for free -
giving you all the facts and figures up front
. We believe this should always be the case for any of our customers, so you can then decide whether to go ahead or not when you want to, be it straight away, a month down the line or not at all – the choice is yours. To get your free quotes on loans between £3,000 and £250,000 fill in our short
no credit search on line enquiry form
or call and speak to our UK based loan team on
0800 298 3000
(free phone) or dial
0333 003 1505
(mobile friendly). Please bear in mind secured loans are more flexible when it comes to your credit history or employment status. Even if you have
been declined elsewhere we could still help you
. Perhaps it was because you are self employed, have no credit history or have unfortunately incurred some adverse credit? - You may still have loans available to you.
Some of our homeowner secured loan lender plans are illustrated below.
 
Plan Rate
Representative
 

---

7.45% APRC

9.8% APRC

---

9.06% APRC

11.9% APRC

---

13.92% APRC

17.8% APRC
Representative APRC`s each table example is based on a £30,000 loan over 15 years with any processing and lender fees added. 9.8% APRC. Representative example: Borrow £50,000 over 180 months. 60 months at 8.1%, £497.83 pcm fixed at 60% LTV. Then 120 months at 10.1%, £539.89 pcm variable. Total payable £94,656.60. Total cost of credit £44,656.60 (including: £795 lender fee, £985 broker fee & £42,876.60 interest).
What Are Secured Loans?
Homeowner secured loans have been around for many years and are often referred to as a second mortgage and are also termed homeowner loans or home loans.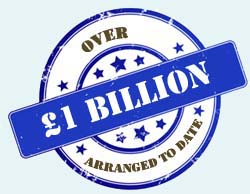 Secured loans are mainly accessed through finance companies as the UK secured market place lenders do not generally have branch networks or the staffing levels to deal with the public directly. They have traditionally been used by consumers to fund home improvements / a major purchase, or to consolidate (also known as refinance) credit commitments into a more manageable payment and ease their cash flow.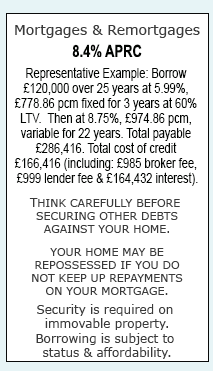 Although these reasons are the most popular to take out secured loans people can and do use them for almost any purpose, such as; buying a new car, taking a once in a lifetime holiday, funding a wedding or even cosmetic surgery.
Who Can Apply For A Homeowner Secured Loan?
To enter into a secured loan agreement you have to be an adult (over the age of 18), resident in the UK and be a homeowner. The secured loans can be on buy to let properties as well as your residential home, so you can use a property you rent out to look into a secured homeowner loan. It is important to realise that having a mortgage on your property does not mean you will struggle to get a homeowner secured loan. All applications will be considered on an individual basis and as any quotes are free you can simply get in touch via the telephone or the website and see what is available to you without any commitment to proceed at all.
Why A Secured Loan And Not A Re Mortgage?
When you decide to release some equity from your property it is probably worthwhile at least looking into both secured loans and remortgages. The loan can be an alternative to re-mortgaging your property if you find that you have high early repayment charges or you wish to have the loan as a separate item within your budget, possibly over a shorter repayment period. So if you are ``tied in`` or have a costly redemption penalty but still need to borrow money, a secured loan may help.
What Can I Use A Secured Loan For?
Loans are available for any legal purpose, many people use them for debt consolidation, funding major home improvements such as buying a conservatory, building an Orangery, installing a loft conversion, getting a new fitted kitchen or refurbishing a bathroom. All of these are fairly popular reasons but any lawful purpose is generally going to be OK, if you are not sure please feel free to give us a call and check. All of our customers are treated with the utmost respect for their privacy.
How Much Can I Borrow And Over How Long?
You can borrow from £10,000 to around £150,000. The amount you may borrow is dictated by a number of factors as with any loans, however we would suggest you should always borrow the minimum you need to achieve the loan purpose. In terms of paying back, you can
spread the repayments from just 5 years to 25 years depending on your individual requirements and circumstances.
What If I Have Or Have Had Credit Problems Including Mortgage Arrears, CCJs, Missed Payments Or Defaults?
The first thing is to be open and tell us day one what credit issues you have had and when. We have plans to help people with Good, Fair or Impaired credit histories, so we will always try dig out the best product for you from our panel of lenders based on your circumstances. Some of our clients have had problems and thought nobody would be able to help as they were turned down for a secured loan, personal loan or mortgage elsewhere, but we still managed to assist them.
What If I Want To Pay The Loan Back Early - Are There Any Early Repayment Penalties?
The secured homeowner loans for personal use were regulated by the Consumer Credit Act and are now regulated by the Financial Conduct Authority . There are rules for calculating early repayment charges - so please ask for details. You will be informed of any other charges or fees that may apply before the loan is completed. It is important you read any documentation sent to you carefully and contact us if you have any queries at all.
What Interest Rate Will I Have To Pay?
As with just about all financial borrowings, the rate will all depend upon your personal circumstances. Our plans will take into account key factors such as your age, income, credit history and your ability to repay the loan. As any quotations are provided for free, we suggest you give us a call or apply on line and we can give you the figures, you can then choose whether to go ahead or not.
Best secured loans
Video transcript
Borrowing money can be a big decision for many people, so it`s important that you find the best secured loans for your individual circumstances, even if your credit history isn`t the best you may still get the help you need.

The good news is that Bank of England statistics show that the availability of secured finance increased markedly in the second half of 2012, suggesting that finding the best secured loan deal for you could have become easier to do.

Secured loans are taken out by people with both good and impaired credit histories.

The money raised can be used for virtually any legal reason – perhaps you want to invest it into your home to give it a more spacious modern feel, whilst also having one eye on a potential increase in any future sale price.

On the other hand, you may plan on using your home loan for refinancing your outstanding credit and debts.
That means your credit cards, store cards and car finance loans can be paid off, leaving you with one more manageable repayment, although interest payments may be higher over the course of the loan.
With this in mind, getting the
best secured loan rates
is key and if you come to First Choice Finance to look for one, we will scour our multiple lenders and provide you with a no-obligation for your individual circumstances.
Because it`s on a no-obligation basis and all quotes are free, if you`re not happy with the deal you can walk away at any time before the loan completes.
To see if we can offer you the best secured loans for your situation, get in touch with First Choice Finance today – fill in the short form on line or call on
0800 298 3000
from a landline, mobile users call 0333 0031505.
Homeowner Secured Loans
9.8% APRC. Representative example: Borrow £50,000 over 180 months. 60 months at 8.1%, £497.83 pcm fixed at 60% LTV. Then 120 months at 10.1%, £539.89 pcm variable. Total payable £94,656.60. Total cost of credit £44,656.60 (including: £795 lender fee, £985 broker fee & £42,876.60 interest). First Choice are tied to certain loan providers.


Mortgages & Remortgages
8.4% APRC.
Representative Example: Borrow £120,000 over 25 years at 5.99%, £778.86 pcm fixed for 3 years at 60% LTV. Then at 8.75%, £974.86 pcm, variable for 22 years. Total payable £286,416. Total cost of credit £166,416 (including: £985 broker fee, £999 lender fee & £164,432 interest)

Unsecured Personal Loans
REPRESENTATIVE 49.9% APR (VARIABLE)
First Choice are tied to certain unsecured lenders.
THINK CAREFULLY BEFORE SECURING OTHER DEBTS AGAINST YOUR HOME.
YOUR HOME MAY BE REPOSSESSED IF YOU DO NOT KEEP UP REPAYMENTS ON A MORTGAGE OR ANY OTHER DEBT SECURED ON IT.
Security is required on immovable property.
Late repayment can cause you serious money problems. For help, go to
moneyhelper.org.uk
Established In 1988. Company Registration Number 2316399. Authorised & Regulated By The Financial Conduct Authority (FCA). Firm Reference Number 302981. Mortgages & Homeowner Secured Loans Are Secured On Your Home. We Advice Upon & Arrange Mortgages & Loans. We Are Not A Lender.

First Choice Finance is a trading style of First Choice Funding Limited of The Old Courtyard, 103 Buxton Road, High Lane, Stockport, Cheshire. SK6 8DX. Copyright protected.