Loans Are Secured On Your Home - Fast Turnaround And Same Day Decisions - Get The Facts & Figures Before You Decide To Go Ahead With A Free Quotation
First Choice has been meeting UK consumers any purpose secured loan requirements for the past 30 years. Whether it`s £10,000 for a car, £15,000 for a conservatory or £25,000 for debt consolidation to lower your monthly outgoings, you can choose from a wide selection of loan products to help you achieve your goals. Simply enquire on line for secured homeowner loans or remortgages (don`t worry - no credit search will be carried out from this form) using our short
on line enquiry form
or call us for a free personalised quote on loan amounts from £10,000 to £150,000 and chat through your requirements on
0800 298 3000
(freephone) or dial
0333 003 1505
.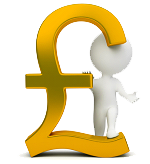 In these times of economic uncertainty you are never too sure when a need for finance may arise and it is quite hard to choose where to go to try and find the right loan for your purposes.
Diversity and experience are what we can offer
- through our multiple borrowing solutions you can get advice upon secured loans (second mortgages), remortgages, purchase mortgages, buy to let and equity release plans.....and all for any legal purpose.
Lenders usually target certain types of borrower, so clients who have a good credit history and are directly employed are likely to have a few more options to choose from. However
hundreds of thousands of consumers have been unfortunate enough to have some credit issues
. You may have tried other companies and found they have let you down or they just passed your details on to someone else and you could not even speak to the original company. That is why we have added access to loan plans over the years to try and cater for those of us with missed payments, defaults or even arrears but who are ready to turn the corner and get back on track. If you think it is time to be looking for someone with experience this time around, then we would like to help you. First Choice Finance was established over 30 years ago and believes in helping UK consumers meet their finance needs through a straight talking personalised service.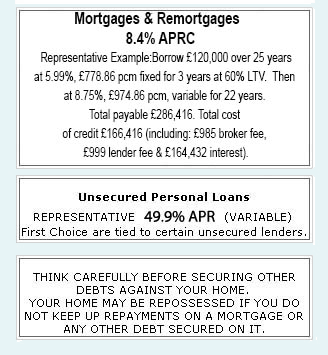 Any Purpose Loans UK
The UK has very varied weather, so one month you may be thinking about finance for loft insulation the next month the sun is out and a conservatory gets added to your wish list. Maybe your boiler has broken at the same time as you are supposed to be changing your car or paying for a conservatory and you simply haven`t got the money in your account to deal with such a large outlay all at once - these days probably most of us don`t. If you are fortunate enough to have funds to deal with a unexpected purchase then that`s great, but if you don`t you may need a way to sort some finance.
First Choice Finance helps its customers get the any purpose loans they need, which can be a perfect solution for this situation. Never mind the vast array of other times that they can come in handy, even if it`s simply for pleasure and you want a great holiday or you have finally decided to do those overdue home improvements or want to take control of your finances by taking out a debt consolidation loan. You can see the major potential benefits in the flexible nature of any purpose loans which we are here to extend to you, on the best deal from our range of secured loan lenders.
We Really Mean Any Purpose
I know we keep repeating it, but it really is an any purpose loan. Anything you can stretch your mind to and fathom spending money on, as long as it isn`t greater than the max loan amount, affordable and is legal (of course) then we will focus on sourcing the money for you.
Examples of what you may borrow money for with any purpose loans
Loft Conversion, Conservatory, Orangery
Purchase a Car, Van or Motorbike
Clear Existing Credit and Refinancing
Landscaping, Porch, Stone or Tarmac Driveway
Overseas Holiday, Special Anniversary Cruise
Caravan, Motor Home or Static Holiday Home
Wedding for you or your Relatives
Cosmetic Surgery, Breast Implants, Gender reassignment
Pay off an Individual Voluntary Arrangement (IVA)
School Fees, Tuition Fees, University Education Fees
As we have been dealing with any purpose loans for around twenty five years we have come to realise that although these are popular or more obvious reasons why people do take out a loan, it is by no means exhaustive. The idea is that we try to offer the best possible loan to suit your situation from our panel. The amount you need, the time you want to borrow it over and your credit history are all considered when we look to arrange an any purpose loan for you, but due to our experience we have access to lending solutions for all sorts of situations, many times we manage to help people who have been declined elsewhere. Please fill in our online loan quotation form or give us a call and we can get the ball rolling.
Loan Amounts For Secured And Unsecured Loans
With the nature of any purpose loans, it is best to first look at your circumstances to see if it is best to take out a loan which is either secured or unsecured. For Homeowner loans you need to have a mortgage or own a house outright. These can allow you to borrow from £10,000 to £150,000 over payment terms ranging from just 3 to 25 years. They offer more flexibility and can be used by customers who have an impaired credit rating, but are also often used by consumers who have good and fair credit rating too. THESE CARRY THE SAME RISKS AS A MORTGAGE.
Unsecured loans often range from £1,000 to around £15,000 with repayment terms of 1 to 5 years typically. On unsecured loans normally the bigger the loan you want the better your credit history and disposable income needs to be. If you can get the money you want unsecured and with affordable repayments you should try that route first.
To give you a brief idea of the differences
Secured
Longer repayment terms
Larger amounts available
More flexible on credit history
Money secured against property - So Greater Risks Involved
Unsecured
Shorter repayment times
Smaller average loan size
Can be turned around quickly
Money not secured against property
Homeowner Secured Loans
9.8% APRC. Representative example: Borrow £50,000 over 180 months. 60 months at 8.1%, £497.83 pcm fixed at 60% LTV. Then 120 months at 10.1%, £539.89 pcm variable. Total payable £94,656.60. Total cost of credit £44,656.60 (including: £795 lender fee, £985 broker fee & £42,876.60 interest)..
Late repayment can cause you serious money problems. For help, go to
moneyhelper.org.uk
Established In 1988. Company Registration Number 2316399. Authorised & Regulated By The Financial Conduct Authority (FCA). Firm Reference Number 302981. Mortgages & Homeowner Secured Loans Are Secured On Your Home. We Advice Upon & Arrange Mortgages & Loans. We Are Not A Lender.

First Choice Finance is a trading style of First Choice Funding Limited of The Old Courtyard, 103 Buxton Road, High Lane, Stockport, Cheshire. SK6 8DX. Copyright protected.