You Could Borrow £30,000 Over 15 Years Or From 3 To 25 years - Early Settlement Available - Repayment Options To Suit Your Budget - Use The Money For Any Purpose Such As: Debt Consolidation Or Home Improvements - £30000 Loan Lender Plans For Good & Bad Credit.
First Choice Finance clients have been taking out any purpose £30,000 loans from across the UK for over a quarter of a century. That experience puts us in a prime position in the loan sector to enable you to borrow the money you require, for the purpose that you want, whilst spreading the payments over a term that suits your budget.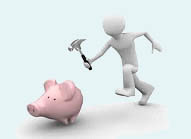 Whether you want a £30,000 loan or even a £130,000 loan we work from an
extensive range of £30,000 lenders plans
. Affordable loans matched to your budget are made available to you from our lender options. Furthermore our quotations are always free and without any obligation -
so you get to see the facts and figures for yourself before you decide if you want to go ahead.
Many clients look for £30000 over 10 year or 15 year terms, but options are available from 3 to 25 years to spread repayments. We have successfully helped people in many different scenarios,
including a low credit score or bad credit history
, obtain the money they need. Give our UK loan team a confidential call to find out quickly your monthly payments on a £30,000 loan via a free quote, on
0800 298 3000
(free phone) or
0333 003 1505
(mobile friendly). Alternatively fill in our short
No Credit Check Online Enquiry Form
and we will call you. Money you borrow can be used for virtually any purpose and be paid directly to you. So when the piggy bank cannot quite cut it get a free quote from First Choice -
we may be able to arrange just the right loan for you
. Some of the light adverse / good credit plans from our lenders are listed at the top of the table below. We also have £30,000 loan plans for those with multiple adverse or bad credit detailed underneath. We have even helped clients with Defaults, CCJ`s & Mortgage Arrears.
---

7.45% APRC


9.8% APRC

---

9.06% APRC


11.9% APRC

---

13.92% APRC


17.8% APRC
Representative APRC`s each example is based on a £30,000 loan over 15 years with any processing and lender fees added.
What Could A £30000 Loan Be Used For?
A loan of £30,000 could be used for a number of things and here at First Choice Finance we specialise in any purpose loans because they provide our customers with the freedom to choose. Plus you will often have the choice to spend their money where you see fit without constraints, subject to affordability.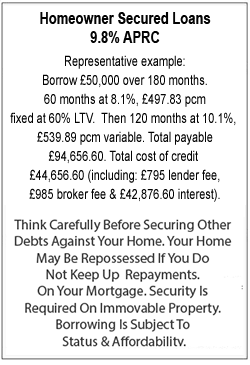 It is also a means by which customers with good, fair or even bad credit may be able to acquire the money they need for their project or purchase. Here are a few examples of how you could spend a £30000 loan:
A New Car- Many people believe that if they want to purchase a new car with finance it must be specialist car finance but this simply isn`t true. At First Choice we can provide you with a loan to cover the purchase cost of your dream car.
Home Improvements - £30,000 could cover the cost of a loft extension, a conservatory for the summer months or just a general decorating upheaval and not only benefit your day to day living conditions but also increase the value of the house. A loan spent on home improvements is a sound investment for both your family and financial life.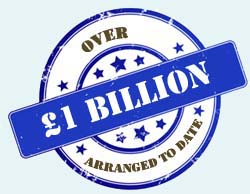 Debt Consolidation - Get back on top of your cash flow and creditors at the same time. Many people carrying multiple debts find they cannot cope with the mounting monthly repayments. Refinancing through a loan to combine those debts can be a solution to this unfortunate and stressful scenario.
A Dream Holiday - Sometimes you just need to treat yourself and being happy within yourself can translate over to your finances. Use a loan to take a break, maybe a safari or even embark on an around the world cruise. In fact you can spend the loan funds on almost any purpose.
If you already have a reason to borrow the money, don`t hesitate and call today to get the latest deals available through first choice finance.
Remortgage Vs. Secured Loan To Borrow £30,000
A value of £30,000 is quite a substantial loan and we want to ensure that when borrowing that kind of money our customers are fully informed. That includes taking into account all of the options available to them. Rather than having a second mortgage with a £30000 loan why not look into the possibility of a remortgage and just have the one payment to deal with? These are some of the crucial questions that need to be answered when you want to borrow finance. You could use our remortgage calculator to figure our some repayments that you might be faced with and start to build a picture of the cheaper option between a secured loan for £30,000 or increasing your current remortgage of the same value. If alternatively you would prefer to talk this through with a friendly, trusted advisor give us a call on the above number and we would be more than happy to help.
If you are considering taking out a loan of £30,000 it would have to be a secured loan, a remortgage, a second mortgage or a business loan through our borrowing options. If you do not wish to secure the loan against your property, you could consider decreasing the value of loan you require and looking into personal loans. For more information on loans that do not require your property as a form of collateral please see our pages on personal or guarantor loans. If you are looking to borrow around £30000 via a loan then read on for more information regarding these loans.
A homeowner secured loan is a loan that sits behind your first mortgage to release some equity from your property. Effectively acting as a mini second mortgage. The payments can be spread over a term of 3 to 25 years and we work closely with our customers to ensure that the repayments are affordable. Our remortgage solutions may be another more suitable way to obtain the funds, your advisers can discuss the various options with you while you decide which way to go.
If you are already set on wanting to take out a loan of £30,000 then you are probably eager to get the money in your bank as soon as possible. You can head over to our loan calculators page to get an idea of repayments for different rates and terms, better still give us a call and get figures tailored to you. If you try our calculators, once you are all clued up with the numbers and have worked out what your monthly budget can afford, fill in our online application form at the top of the page to get the process started. Our finance advisers will get back to you and start producing a free quote for you to look over with no obligation whatsoever.
Where Can I Get A 30000 Loan With Bad Credit?
What Are The Repayments on a £30,000 Loan Over 10 Years?
Can I Consolidate £30k Worth Of Debt
Can I Get An Unsecured Personal Loan For £30,000?
Can I Borrow 30,000 Pounds If I Have An Adverse Credit Rating?
Where Can I Get A 30000 Loan With Bad Credit?
There are lenders who will offer loans of £30,000 or more to clients with bad credit, subject to the applicants meeting these large loan providers other criteria. This may sound good but it is important to be realistic here. To get a larger loan with existing bad credit (such as C.C.J.s, defaults or credit arrears) many of the more competitively priced lenders are going to want some security. These are known as home owner or secured loan providers. This is because you are likely to be viewed as a higher risk borrower - the logic being that if you have had credit issues in the past you may get them again. In terms of borrowers who cannot offer any security, for example tenants / renters our lender options tend to cap out at around £15,000. Unsecured loans without security for clients with a poor credit history carry rates that would usually be notably higher than mainstream prime lenders offer - so make sure you are in a better position by taking the loan on before you accept it, or try and improve your credit then re assess your options.
What Are The Repayments on a £30,000 Loan Over 10 Years?
Your repayments could be £328.50 per month if you took on a £30,000 at a rate of 5.3% APRC over 10 years (120 months). The total paid back if you went the full term in this case would be £39,420.00 excluding any fees (which will be advised before you accept any loan) As with any type of loan the monthly amount you would pay back depends upon the rate you qualify for. Bear in mind though that some lenders lowest rate are better than others. So you need to make sure you look at a few options before you decide on a particular loan, as the difference in rate can save you thousands of pounds in interest. Processing,advice, product and early settlement fees may be charged by your intermediary or the lender respectively.
Can I Consolidate £30k Worth Of Debt?
Yes : - many of our lenders £30,000 loan plans accept debt consolidation as a genuine reason to take out a loan. There are of course parameters to be met which are too lengthy to go into details here but we can mention a few high level deciding points; you must be able to afford the repayments on any debt consolidation loan, the lender may well want to pay your creditors back directly from the loan funds (so you don`t spend it elsewhere..) and you need to be in a better position overall by consolidating your debts. Remember it is not all about cash flow, even though this may be notably improved on a month to month basis, you will nearly always end up paying more back in total interest on the one larger loan over its agreed term than you would have over the loans you have consolidated.
Can I Get An Unsecured Personal Loan For £30,000?
Not that long ago the answer here would probably have been no. However there are more existing lenders that are entering the larger personal loan arena, up to and around the £30000 area. Some of these are well known lenders from the high street and others include slightly unexpected routes such as larger chain supermarkets. Most lenders work on a risk based approach to lending you money, so the more you would like to borrow the less of a risk you need to be. Hence if you are tight on affordability or have a poor credit history / low credit score the chances of obtaining one are going to be lower.
Can I Borrow 30,000 Pounds If I Have An Adverse Credit Rating?
Having an adverse credit rating will limit the number of lenders who will advance a loan of £30,000 to you. The nature of the adverse and your overall profile as an applicant will dictate who will consider you. If your adverse is minor, such as small defaults or a CCJ over 6 years old, alternatively if you are not really an `adverse` client, but have a low credit score due to a lack of credit history - then either way you should have a good selection of lenders to go at, although you may be best to speak to them or approach them via a finance adviser before you commit to an application - As one decline can often lead to another.... As for your overall picture, if you have some adverse but have a high income, stable long term employment, good stable voters roll history and are meeting all your current monetary commitments you may still fit some lenders criteria.
Homeowner Secured Loans
9.8% APRC. Representative example: Borrow £50,000 over 180 months. 60 months at 8.1%, £497.83 pcm fixed at 60% LTV. Then 120 months at 10.1%, £539.89 pcm variable. Total payable £94,656.60. Total cost of credit £44,656.60 (including: £795 lender fee, £985 broker fee & £42,876.60 interest)..
Late repayment can cause you serious money problems. For help, go to
moneyhelper.org.uk
Established In 1988. Company Registration Number 2316399. Authorised & Regulated By The Financial Conduct Authority (FCA). Firm Reference Number 302981. Mortgages & Homeowner Secured Loans Are Secured On Your Home. We Advice Upon & Arrange Mortgages & Loans. We Are Not A Lender.

First Choice Finance is a trading style of First Choice Funding Limited of The Old Courtyard, 103 Buxton Road, High Lane, Stockport, Cheshire. SK6 8DX. Copyright protected.